Alternative name: Jackass Penguin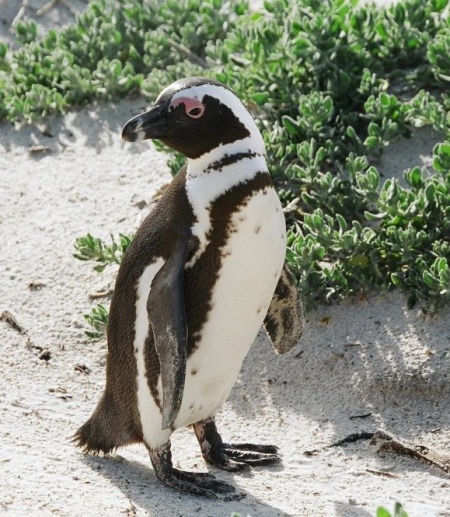 Spheniscus demersus
Identification
60-70cm (23½-27½ in)
Blackish-grey above and white below. Head and throat blackish with a white band from the bill-base over the eye to meet white of underparts on sides of neck. Broad, black horseshoe band on white underparts extending down flanks is distinctive but there may occasionally be a partial or complete second band thus resembling Magellanic Penguin from South America, not recorded in African waters. Bill black with greyish bar and bare pink skin at bill-base extending to around eye, feet greyish-black. The only Spheniscus penguin in range.
Distribution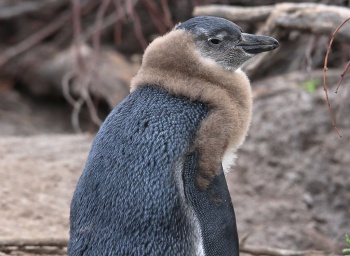 Coasts of southern Africa from the central coast of Namibia to Maputo Bay in Mozambique. Breeding is confined to offshore islands of Namibia and South Africa but non-breeders may wander north to Angolan waters and further north off Mozambique.
Breeds on 25 islands and at four mainland sites along the South African and Namibian coastline.
Taxonomy
This is a monotypic species[1].
Habitat
Breeds year-round in burrows on dry sandy and rocky islands and returns to islands to roost. Gregarious and feeds within 50km of shore, usually within 10km.
Status
Classified as Vulnerable in the 2008 IUCN Red List (BirdLife International, 2008).
Behaviour
Breeding
Colonial breeder on offshore islands. Nests in burrows in guano or sand, holes among rocks etc. Some nest above ground building nests of stones and local debris. Eggs: two, sometimes 1, chalky-white, laid all year with peaks in June and November/December (67 x 52mm). Incubated for 38-41 days by both sexes. Young fed by both sexes and leave breeding island at about 85 days.
Diet
Their diet consists of small fish, particularly pilchards and anchovies, also squid and crustaceans.
Vocalisation
Loud braying call uttered mostly at night.
References
Clements, J. F., T. S. Schulenberg, M. J. Iliff, D. Roberson, T. A. Fredericks, B. L. Sullivan, and C. L. Wood. 2017. The eBird/Clements checklist of birds of the world: v2017, with updates to August 2017. Downloaded from http://www.birds.cornell.edu/clementschecklist/download/
BirdLife International (2008) Species factsheet: Spheniscus demersus. Downloaded from http://www.birdlife.org on 24/6/2008.
Recommended Citation
External Links
GSearch checked for 2020 platform.