Cyanomitra olivacea
Nectarinia olivacea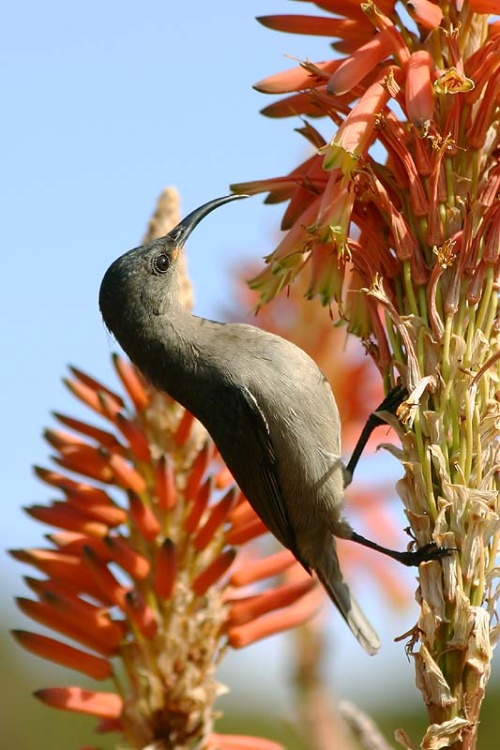 Identification
Length 13-16 cm, mass 11-12 g. The males are larger than the females, but otherwise the sexes are similar. They are olive green above, with the face darker than the crown and back. The tail is dark greyish brown, and the wings are dark olive green and dark greyish brown. The breast and belly are yellowish green and pectoral tufts (present in all males and the females of some populations) are yellow. The bill, legs and feet are black, and the eyes dark brown.
Males may call from the same perch for extended periods with loud piping notes.
Distribution
Sub-Saharan Africa.
Taxonomy
This is one of the seven Sunbirds that have recently been moved into the genus Cyanomitra from the genus Nectarinia.
Formerly split in Western and Eastern Olive Sunbird by Clements.
Subspecies
There are 11 subspecies[1]:
Principe Island and Bioko Island (Gulf of Guinea)
Zanzibar and Pemba Island
Habitat
Forest, dense woodland, plantations, gardens.
Behaviour
These birds generally keeps to cover and are often found by following their calls, rather than by sight. They are usually solitary, but may be seen in loose groups at rich food sources. Food includes nectar, insects and spiders.
References
Hockey PAR, Dean WRJ & Ryan PG (eds) 2005. Robert's Birds of Southern Africa, 7th edition. Cape Town: John Voelcker Bird Book Fund. ISBN 0620340533
Bowie, R.C.K., Fjeldsa, J., Hackett, S.J. & Crowe, T.M. 2004. Molecular evolution in space and through time: mtDNA phylogeography of the Olive Sunbird (Nectarinia olivacea/obscura) throughout continental Africa. Molecular Phylogenetics and Evolution 33, 56-74.
Percy Fitzpatrick Institute. 2006. Death of a species: Why there is only one species of Olive Sunbird. Africa Birds and Birding Vol. 11, No. 1, p26.
External Links