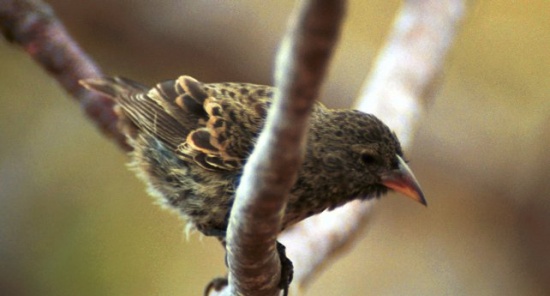 Geospiza difficilis
Identification
11-12 cm with a pointed bill
Full plumage male is black with white edges to under-tail coverts.
Female has dark olive-brown head (hint of buffy eye-ring) and upper-side with contrasting feather edges more prominent on the back. Wing coverts are strongly edged cinnamon producing impression of wing bars, more narrowly edged on flight feathers. Under-side is buff with darker streaking, getting paler on under-tail coverts to whitish buff.
Bill in both sexes range from brownish with yellow tip and orange at base during breeding to orange-yellow outside that period (in males may be all black in high breeding). Eyes and legs are dark.
Variation
Birds from Santiago have larger feet and more deeply based bill but are not currently considered a separated subspecies (formerly known as debilirostris).
Distribution
Taxonomy
This is a monotypic species[1]:
G. difficilis - Pinta, Fernandina, Isabela, and Santiago Islands
The subspecies difficilis from Pinta Island is no longer recognized. The population on Santa Cruz is now extinct.
Former subspecies septentrionalis is now split as Vampire Ground Finch and acutirostris as Genovesa Ground Finch.
Habitat
Mostly in forests in highlands on the islands where they are found.
Behaviour
Nesting seems concentrated in the wet season, when the male builds a globular nest with a side entrance.
Food presumably consists of both smaller invertebrates and plant based materials such as seeds and fruit.
References
Clements, J. F., T. S. Schulenberg, M. J. Iliff, D. Roberson, T. A. Fredericks, B. L. Sullivan, and C. L. Wood. 2016. The eBird/Clements checklist of birds of the world: v2016, with updates to August 2016. Downloaded from http://www.birds.cornell.edu/clementschecklist/download/
Gill, F and D Donsker (Eds). 2017. IOC World Bird Names (version 7.1). Available at http://www.worldbirdnames.org/.
Birdforum thread with discussions of taxonomy of Darwin's finches. The section following post #38 (at least) is relevant for this species
Recommended Citation
External Links