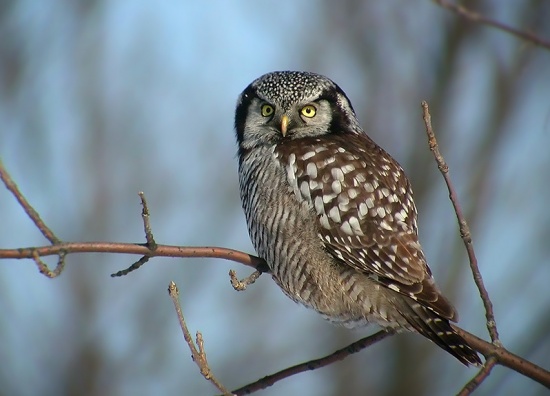 Surnia ulula
Identification
L 35-43 cm (13¾-17 in), WS 69-82 cm.
Long, rounded tail with white stripes
Barred underparts
Large round head with no ear tufts
Eyes and bill are yellow
Thick black stripe framing each side of its whitish face
Forehead is spotted white
Breast is whitish with dark brown horizontal stripes
Distribution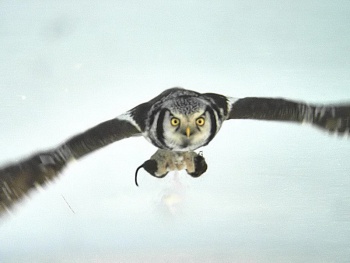 Northern circumpolar.
Taxonomy
Subspecies
Three subspecies are recognized[1]:
Habitat
Boreal forests, preferring vicinity of bog, meadow or clearfell.
Behaviour
Rather hawklike, smaller than American Crow. Does not sit as erect as other owls. Often perches at the top of a tree and frequently jerks its tail up and slowly lowers it. Shrikelike, it flies low, rising abruptly to its perch.
Diurnal hunter, calls at night
Diet
Food voles (main prey, taken on ground after watch from treetop) and birds (e.g. thrushes; capable of catching prey as large as Willow Grouse).
Breeding
Nests inside woodpecker holes or rotting trees, also abandoned crow, hawk, and squirrel nests. Clutch of 3 - 10 eggs are laid and incubated by the female for 25 - 30 days. After the young hatch it takes another 25 - 30 days before they leave the nest.
Vocalisation
References
Clements, J. F., T. S. Schulenberg, M. J. Iliff, D. Roberson, T. A. Fredericks, B. L. Sullivan, and C. L. Wood. 2017. The eBird/Clements checklist of birds of the world: v2017, with updates to August 2017. Downloaded from http://www.birds.cornell.edu/clementschecklist/download/
Answers.com
Collins Field Guide 5th Edition
Recommended Citation
External Links
GSearch checked for 2020 platform.1