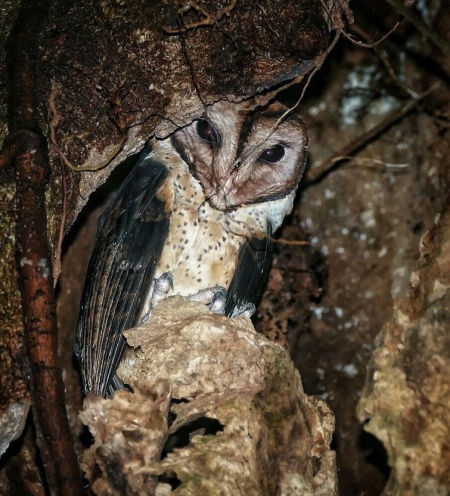 Alternative names: Minahasa Barn Owl; Minahasa Owl (Minahasa has in the past been spelled Minahassa)
Tyto inexspectata
Identification
27–31 cm (10½-12¼ in)
back black with reddish admixture or back/upper parts pale cinnamon
wings with black and rufous barring or just with darker striations
facial disc with dark border and off white feathering (may have rusty tinge)
under parts cinnamon with sparse dark spotting
pale yellowish bill
eyes large, dark
feet pale whitish skinned with cinnamon feathering
Distribution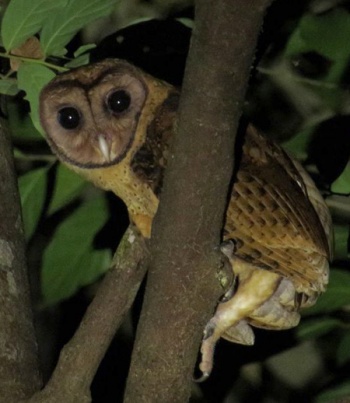 Sulawesi endemic. South East Asia: Indonesia: Greater Sundas. North-eastern Sulawesi (Minahassa Peninsula) and central Sulawesi.
Taxonomy
This is a monotypic species[1].
Habitat
Primary and disturbed riverine, hill and montane forests.
Behaviour
Diet
There is no information available about their diet.
Breeding
A nest hole in a tree found in 1939 was thought likely to belong to this species.
References
Clements, J. F., T. S. Schulenberg, M. J. Iliff, D. Roberson, T. A. Fredericks, B. L. Sullivan, and C. L. Wood. 2018. The eBird/Clements checklist of birds of the world: v2018. Downloaded from http://www.birds.cornell.edu/clementschecklist/download/
Handbook of the Birds of the World Alive (retrieved December 2018)
Recommended Citation
External Links
GSearch checked for 2020 platform.