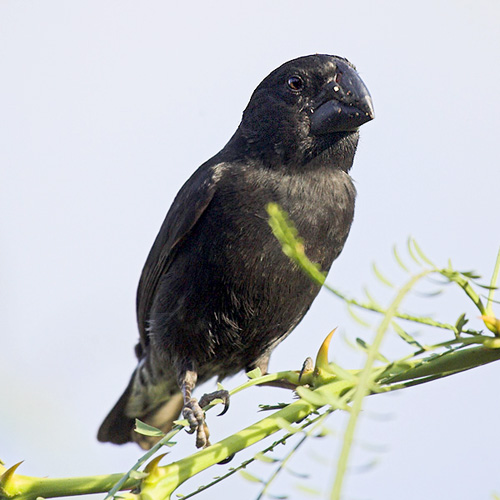 Geospiza magnirostris
Identification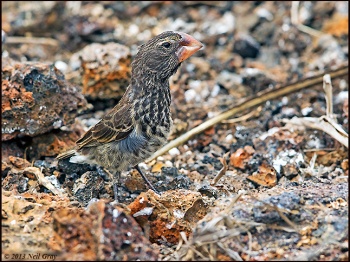 15-16 cm. A large ground finch with a massive bill.
Bill size variable, often as deep as long and appearing as deep as entire head. Thick and obvious base of lower mandible.
Male
Black plumage, slightly browner on wings and tail
White crissum with some blackish streaking
Dark eye
Black bill in breeding season, orange-yellow during non-breeding period
Blackish legs
Female
Dark brown plumage with sandy-buff to grey fringing, creating a scaled appearance
Streaked head and breast
Darker birds looking hooded with plain side of head
Dark bill with orange tint at base and yellow tip, colour varying during season.
Similar species
Medium Ground Finch is very similar and best distinguished by bill structure, body size and voice. Espanola Ground Finch and Genovesa Cactus Finch are also very similar: note structure and shape of bill and for the first one, range.
Distribution
Endemic to the Galapagos Islands. Found on islands of Pinta (Abington), Marchena (Bindloe), Genovesa (Tower), Fernandina (Narborough), Isabela (Albemarle), Santiago (James), Rábida (Jervis), Pinzón (Duncan), Baltra (Seymour), Santa Cruz (Indefatigable) and Santa Fe (Barrington). Formerly also on Floreana (Charles).
Common and widespread.
Taxonomy
This is a monotypic species.
Hybrids with Large Cactus Finch knwon from Genovesa, large-scale hybridization with Medium Ground Finch may have occured on Santa Cruz.
Habitat
Arid scrub in lowlands.
Behaviour
Diet
Feeds on large seeds, caterpillars and fruits.
Same food selection as Sharp-beaked Ground Finch and Large Cactus Finch during breeding season but outside breeding season diet of the three species diverge and correlates with bill size.
Breeding
Breeding season on Genovesa from January to May, up to 4 clutches per season. The nest is a sphere with a top entrance, made from dry grasses and other vegetable matter. Lays 4 eggs.
Movements
This is a resident species.
References
Clements, J. F., T. S. Schulenberg, M. J. Iliff, D. Roberson, T. A. Fredericks, B. L. Sullivan, and C. L. Wood. 2014. The eBird/Clements checklist of birds of the world: Version 6.9., with updates to August 2014. Downloaded from http://www.birds.cornell.edu/clementschecklist/download/
Handbook of the Birds of the World Alive (retrieved December 2014)
Recommended Citation
External Links