Alternative names: Cactus Finch, Cactus Ground Finch, Cactus Groundfinch, Cactus Ground-Finch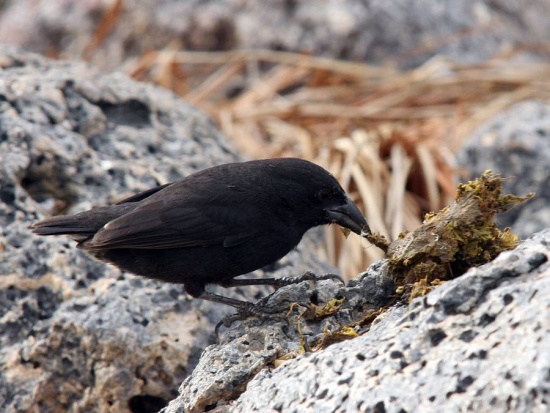 Geospiza scandens
Identification
14 cm, a species with long, slightly decurved, bill and a short tail
Male in full breeding plumage is mostly black with pale rear, central belly and scaled under-tail coverts (plumage reached after about 5 rounds of moult)
Female: brownish-grey on head and throat, and upper-side similar but with paler edges to feathers. Underside is pale with dark streaks.
Bill color of both sexes varies depending on breeding status from almost all yellow to mostly dark with yellow tip and base to (male only) all black in high breeding. Immature: birds start with being mostly like female and gradually mature (most noticeable with a male having all black head and throat but undersides similar to female). These birds may also be able to breed.
Distribution
Found only on the Galapagos Islands.
Taxonomy
Subspecies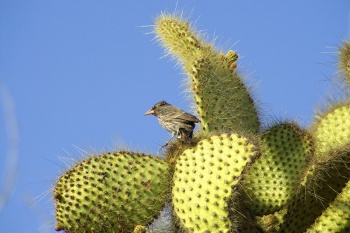 There are 4 subspecies[1]:
Galapagos Islands (Santa Fé, Floreana, Pinzón, Santa Cruz, Isabela Islands)
Pinta Island (Galapagos Islands)
Marchena Island (Galapagos Islands)
Habitat
Dry forest, coasts and shrubland, rarely far from local cactus (prickly pear) stands.
Behaviour
About 2/3 of food from the prickly pear, with other small seeds making up the majority of the rest.
References
Clements, J. F., T. S. Schulenberg, M. J. Iliff, S. M. Billerman, T. A. Fredericks, B. L. Sullivan, and C. L. Wood. 2019. The eBird/Clements Checklist of Birds of the World: v2019. Downloaded from http://www.birds.cornell.edu/clementschecklist/download/
Swash, A & R Still 2005. Birds, Mammals and Reptiles of the Galapagos Islands, 2nd ed. Christopher Helm and Wildguides Ldt. ISBN 978-0-7136-7551-1
Jaramillo, A. and D. A. Christie (2020). Common Cactus-Finch (Geospiza scandens), version 1.0. In Birds of the World (J. del Hoyo, A. Elliott, J. Sargatal, D. A. Christie, and E. de Juana, Editors). Cornell Lab of Ornithology, Ithaca, NY, USA. https://doi.org/10.2173/bow.cocfin3.01
Recommended Citation
External Links
GSearch checked for 2020 platform.1