Tetrao urogallus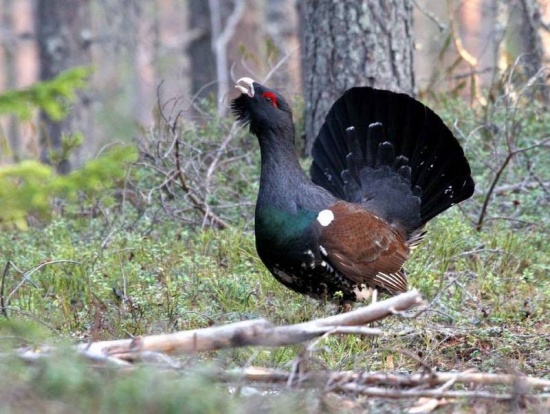 Identification
The Western Capercaillie is the largest species of grouse in the world.
Male: Weighs up to 5kg, L. 95cm (of which 30-40cm is its long, rounded tail).
Predominantly dark slate-grey
Blacker underparts
Dark, glossy green breast
Dark brown wings and mantle
Creamy-white speckles often form a band across the central tail feathers
White patches at the shoulder can be very prominent

From a distance male can appear almost all black

Substantial, hooked ivory bill
Red eye-wattle
Ragged beard of black feathers on the throat
In flight, whitish-grey underwings can be very obvious
Female:
Predominantly rufous-brown
Heavy black and white barring, particularly on the flanks
Breast is unmarked and appears as a prominent orange-chestnut patch
Rounded tail is strongly barred orange-chestnut and black
Much smaller than male, weighing around 2kg and measuring up to 65cm in length, with a proportionally shorter tail than the male.
Similar Species
Female can be mistaken for the female Black Grouse (Tetrao tetrix), particularly where the forest adjoins more open ground and both species could be present. However, the female black grouse is generally about two-thirds the size of a hen capercaillie and is usually less rufous in colouring, being grey-brown overall, and lacks the unbarred orange breast. It also has a slightly notched tail in contrast to the rounded tail of the capercaillie.
In the far east of the Western Capercaillie's range, the Black-billed Capercaillie is another confusion species and hybrids can occur.
Distribution
Wide palaearctic distribution, extending from north-west Spain and Scotland in the west, through central Europe, the Balkans and Scandinavia, the Baltic States and Russia as far east as Lake Baykal, where it overlaps and occasionally hybridises with the Black-billed Capercaillie. The most southerly confirmed Capercaillie population is at Mount Athos in Greece. The broad pattern of its distribution matches that of Scots Pine Pinus sylvestris, although other conifers are used towards the edge of its range. The distribution is highly fragmented in Europe, partly due to suitable habitat being restricted to isolated mountain ranges in southern and central parts of Europe, but also due to habitat loss and human disturbance.
Taxonomy
Up to 12 sub-species are recognised, although the differences between most are small (many of the southern European forms are slightly smaller and darker), and some authorities recognise only 2 subspecies, urogallus and taczanowskii, the latter being quite distinctive with a white belly. In addition to the Black-billed Capercaillie, the Western Capercaillie is known to hybridise with the Black Grouse (forming a hybrid known as a Rackelhahn) and the Common Pheasant.
T.u. urogallus - Scandinavia, Scotland;
T.u. major - Central Europe (Alps, Germany, Poland, Czech Rep. Slovakia, northern Balkans)
T.u. aquitanicus - Pyrenees
T.u. cantabricus - NW Spain
T.u. rudolfi - Carpathians, Bulgaria, Greece
T.u. karelicus - Finland, Karelia
T.u. lonnbergi -Kola peninsula
T.u. pleskei - Byelorussia, Ukraine, European Russia
T.u.obsoletus - north Russia and north Siberia
T.u. volgensis - central and south-east Russia
T.u. uralensis - southern Urals and south-west Siberia
T.u. taczanowskii - central Siberia, Altai Mountains and north-west Mongolia
In the fragmented European parts of its range, the bird has declined dramatically as a result of habitat loss, disturbance, and over-hunting. In Scotland for example, it is thought to have become extinct in about 1785, and Scandinavian birds were reintroduced from 1837 onwards (the last releases taking place as recently as the 1990s). This led to a resurgence of the population and it was considered a common bird in Scotland until the 1980s, when it became apparent that a dramatic population decline was underway (from an estimated 20,000 birds in the 1970s, to only around 1000 birds in the late 1990s.) Intensive conservation efforts have stopped this decline and a modest recovery has taken place in the early 21st century, although the population is still very vulnerable at arouind 2000 birds.
Habitat
The Western Capercaillie is a woodland bird, favouring forests dominated by Scots Pine Pinus sylvestris, the needles of which form its main winter food. The ideal habitat across much of the bird's range therefore comprises Scots Pine dominated forest with an understorey of Blaeberry, interspersed with small wetlands and patches of broadleaved trees. Dense cover, provided by a tall shrub layer or dense patches of young trees is an important habitat feature as it provides shelter from predators, which include Goshawks, Foxes and Pine Martens. This is particularly important in small fragmented forests, where the forest edge can attract larger numbers of predators into the forest and predation can become a significant secondary cause of population decline.

The ideal habitat conditions are found in old-growth boreal forest and densities of Western Capercaillie have been found to be twice as high in Karelia (where old-growth forest predominates) compared with neighbouring Finland, where much of the Forest is managed for timber production. However, the species can survive well in commercial forests if they are managed in a sensitive way, such as felling trees in small patches, creating a structurally diverse forest and avoiding disturbance or felling around lek sites.

In Scotland, deer fencing erected from the 1980s onwards to protect the old pine forests from overgrazing and to help this prime Capercaillie habitat regenerate was ironically a significant cause of mortality as the birds could not see the fences and flew into them. A programme of fence removal and marking has reduced this mortality significantly.
Behaviour
For such a large bird, the capercaillie is remarkably secretive and difficult to see, particularly during the summer when it feeds predominantly on the ground in dense shrub vegetation and is reluctant to fly due to moulting. Often the only sign of the presence of capercaillie in a forest is their large, cylindrical droppings (up to 1cm in diameter), mostly comprising pine needles and often found along forest tracks. The bird is easiest to see during its lek displays.
Away from their display grounds, capercaillies are rarely seen perched out in the open, but may occasionally be seen along forest roads and tracks in the early morning, feeding or taking grit. They are most likely to be seen when inadvertently flushed from a tree, or sometimes the ground. Often the first sign of a bird's presence is a crashing sound coming from the branches of a nearby tree, followed by loud, clattering wingbeats as the bird breaks cover and disappears into the forest. Such sightings usually only last a couple of seconds, and are often frustratingly obscured by the surrounding trees.
Breeding
Displays at traditional 'lek' sites in early mornings in the spring. However, lek sites are very vulnerable to disturbance and due to population declines in much of its range (and particularly in central and western Europe), visiting lek sites is no longer encouraged in many areas. In Scotland, lek sites are protected by law and may not be approached without a licence, although public viewing facilities are provided at one lek site at Loch Garten in Speyside to reduce the temptation that birders might try to visit other leks.
Diet
Its main winter food is the Scots Pine. The needles of other pines and spruces are occasionally eaten, particularly in the isolated southern European populations, and in north-west Spain, where holly leaves are an important winter food. In the spring, the buds of trees such as Aspen, Rowan and Larch are eaten, but in the summer, the bird becomes predominantly ground-dwelling, feeding on the shoots of heaths, sedges and especially Blaeberry Vaccinium myrtillus.

The young chicks feed on insects for the first few weeks, which they find on Blaeberry plants or in wetland areas.
Flight
The capercaillie is a strong flier, usually below or just above the tree canopy, but occasionally on longer flights (e.g. across valleys) at higher altitude, when the long tail of the male is particularly obvious.
External Links
NB this search will also find another capercaillie species, unless you select "Category Britain & Europe" on the next screen

GSearch checked for 2020 platform.