Buteo hemilasius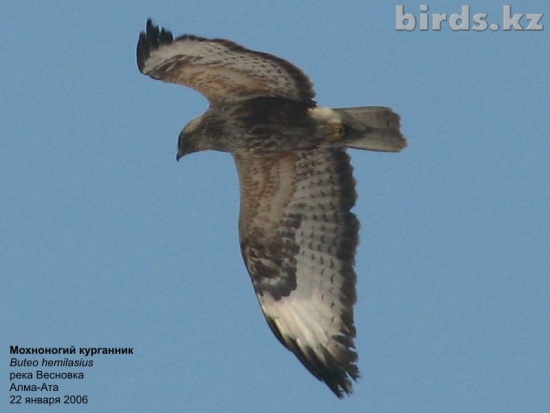 Identification
Light brown head edged with white, broad brown moustachial streak, white patch on nape, light brown edged with pale rufous upperparts, the upper-tail coverts has white spots, brown tail, its central feathers being mottled along shafts with white and with two or three darker bars at the tip, rufous-white underparts, upper breast, flanks and sides are blotched with brown, the thighs are brown with pale bars. The eyes are buff, white, or golden, the legs and feet yellow to grey yellow, with tarsus feathered 3/4 way down.
Similar species
Long-legged Buzzard does not have feathers on nearly as much of the tarsi.
Distribution
Central Asia; winters in North India, Burma, central China and Korea.
Taxonomy
This species is monotypic.[1]
Habitat
High country, steppe or open plains, mountains and desert throughout its range.
Behaviour
Diet: Includes small ground mammals.
Breeding: The nest is flattish, about one metre across, made of sticks and lined with grass, hair or wool, built on low crags. 2-4 eggs are laid in late April or May and are incubated for about 30 days. The young often fight with one an other in the nest; older nestlings sometimes kill the younger, and cannibalism is not unknown. They fledge after about 45 days.
References
Clements, JF. 2008. The Clements Checklist of Birds of the World. 6th ed., with updates to December 2008. Ithaca: Cornell Univ. Press. ISBN 978-0801445019.
Paper describing identification features of Long-legged vs Upland Buzzards
Recommended Citation
External Links
A thread with more discussion of this species can be found here