This article is incomplete.
This article is missing one or more sections. You can help the BirdForum Opus by expanding it.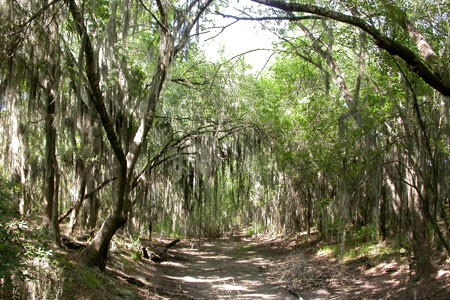 Overview
Along the banks of the lower Rio Grande is the Santa Ana National Wildlife Refuge, a 2,088 acre refuge established in 1943 for the protection of migratory birds. At an ecological crossroad, Santa Ana is strategically located where subtropical climate, gulf coast, great plains and Chihuahuan desert meet. Thousands of birds from the Central and Mississippi flyways funnel through the area on their way to and from Central and South America. This small patch of midvalley riparian woodland is also habitat for about one half of all butterfly species found in the United States.
The Refuge has been closed due to the flooding of the Rio Grande, but has recently re-opened for hiking/walking, nature tours, talks & programs! There are a few areas still closed due to damage from the flooding. Check the Friends of South Texas Refuges in External Links below.[1]
NB: A note from the Refuge Manager (Jan 28th, 2011): Please be aware that the entrance gate (parking lot gate) to Santa Ana National Wildlife refuge is being repaired and until it can be replaced a temporary gate has been installed. This gate will open at 7am daily and will close at 6:30pm. The gate will not automatically open so please make sure that you have left the parking lot by 6:30pm. We are working hard to get the automatic gate repaired. Thank you for your support and understanding.
This NWR is site LTC 059 on the Great Texas Coastal Birding Trail.
Birds
Notable Species
The 397 species of birds found on Santa Ana make it a birder's delight. Waterfowl, marsh birds and shorebirds can be seen on the lakes and wetlands of the refuge. Some species to look for are Black-bellied Whistling Duck and Fulvous Whistling Duck, Mottled Duck, Blue-winged Teal, Green-winged Teal, and Cinnamon Teal, Least Grebe, Anhinga, Tricolored Heron, White Ibis, Lesser Yellowlegs, Long-billed Dowitcher and Least Tern.
Migrating raptors that fly over the refuge in spring and fall include Osprey, Broad-winged Hawk, Northern Harrier and Peregrine Falcon. Santa Ana NWR's rarest raptors, the Hook-billed Kite and Gray Hawk, are seen occasionally on the refuge and attract birders from around the world.
Spring warblers are abundant, with over 35 species seen, including Golden-winged Warbler, Magnolia Warbler, Northern Parula and Tropical Parula, American Redstart, Palm Warbler and Yellow-breasted Chat.
Other specialties found in the lower Rio Grande Valley include the Buff-bellied Hummingbird, Roseate Spoonbill, Masked Duck, Plain Chachalaca, Red-billed Pigeon, Inca Dove, Ruddy Ground Dove, Groove-billed Ani, Pauraque, Ringed Kingfisher and Green Kingfisher, Couch's Kingbird and Tropical Kingbird, Great Kiskadee, Green Jay, Clay-colored Robin and Chihuahuan Raven.
Rarities
Rarities include Crane Hawk (1 record).
Check-list
Birds you can see here include:
To do
Other Wildlife
Considered the jewel of the refuge system, this essential island of thorn forest habitat is host or home to nearly 400 different types of birds and a myriad of other species, including the Indigo snake and malachite butterfly. Bobcat, coyote, armadillo, long-tailed weasel and Mexican ground squirrel are present, too. The endangered ocelot and jaguarundi are also here, but difficult to see.
Site Information
History and Use
Before dams and control structures significantly reduced the flow of the Rio Grande, periodic floods cut shifting channels into the delta creating crescent-shaped oxbow lakes, referred to as resacas.
Santa Ana's management program mimics the historical flooding of the Rio Grande, maintaining the bottom land hardwood forest and providing crucial nesting and feeding habitat for birds, watering holes for animals, and homes for countless amphibians, reptiles, crustaceans and insects.
With over 95 percent of the original habitat in the lower Rio Grande delta cleared or altered, Santa Ana is a reminder of the semitropical thorn forest that once dominated the area.
Areas of Interest
Nature Tram Tours ~ due to damages from flooding, the tour route has been modified.
Due to significant damage to Refuge infrastructure from flooding, the 2010-2011 canoe season on the Rio Grande is cancelled
45 foot Fire Tower and a Canopy Rope Bridge
Chachalaca Trail (0.5 miles): includes two blinds and is universally accessible
Cattail Lakes Trail (1.6 miles)
Pintail Lakes Trail (2 miles): includes views of the Rio Grande River
Access and Facilities
Seven miles south of Alamo, on the south side of Highway 281.
Visitor Center, with museum, open 8am-4pm, daily except Thanksgiving, Christmas and New Year's Day.
12 miles of trails through the reserve
60 passenger, interpretive, 1.5 hour, tram tour, 3 times daily, from Thanksgiving through April (call 956-784-7500 for details)
7 mile wildlife drive open on weekends (9am-4pm) from May to November
No picnicking, open fires or camping are allowed on the refuge
Entrance fees
Free on the first Sunday of each month
$3 per private vehicle
$3 per family group (on foot)
$25 per tour group
$10 for a Season Pass (can be used also at Laguna Atascosa NWR)
Contact Details
Jennifer Owen-White (Refuge Manager)
Route 2, Box 202A
Alamo, Texas 78516
Tel: (956) 784-7541
References
External Links
Content and images originally posted by Gaga and HelenB