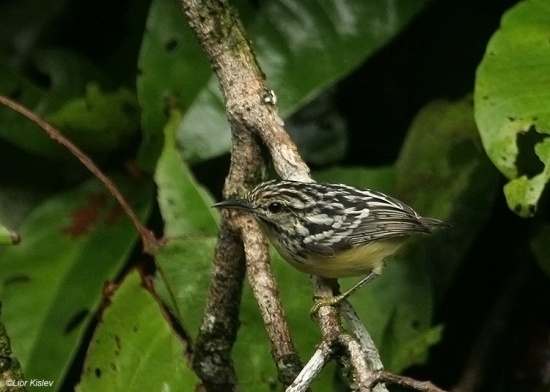 Myrmotherula brachyura
Identification
Male: Upperparts and crown mostly black-and-white striped, throat white separated from the white sides of head by narrow black malar stripe; underparts off-white to yellowish. Wings have white wing bars and narrow white edges to flight feathers; tail is short and black.
Female similar but with white replaced by buff to yellowish on crown and sides of head.
Similar species
Moustached Antwren has a broader, more prominent malar stripe. See also Yellow-throated Antwren.
Distribution
South America: Eastern Colombia to the Guianas, Amazonian Brazil and northern Bolivia
Taxonomy
Moustached Antwren Myrmotherula ignota was split from Pygmy Antwren.[1][2]
Habitat
Subtropical or tropical moist lowland Atlantic rainforests, subtropical or tropical swamps, and heavily degraded former forest.
Behaviour
This species tends to fourage high towards the canopy while Plain-throated Antwren fourage low, at least if both species are present.
References
Clements, JF. 2010. The Clements Checklist of Birds of the World. 6th ed., with updates to December 2010. Ithaca: Cornell Univ. Press. ISBN 978-0801445019. Spreadsheet available at http://www.birds.cornell.edu/clementschecklist/Clements%206.5.xls/view
Gill, F and D Donsker (Eds). 2010. IOC World Bird Names (version 2.7). Available at http://www.worldbirdnames.org/.
SACC proposal to change the taxonomic alignment of this taxon
Morton & Stutchbury (2001): Behavioral Ecology of Tropical Birds. Academic Press. ISBN 0-12-675556-6
Ridgely and Tudor 2009. Field guide to the songbirds of South America - The Passerines. University of Texas Press. ISBN 978-0-292-71979-8
Restall et al. 2006. Birds of Northern South America. Yale University Press. ISBN 9780300124156
Wikipedia
Recommended Citation
External Links