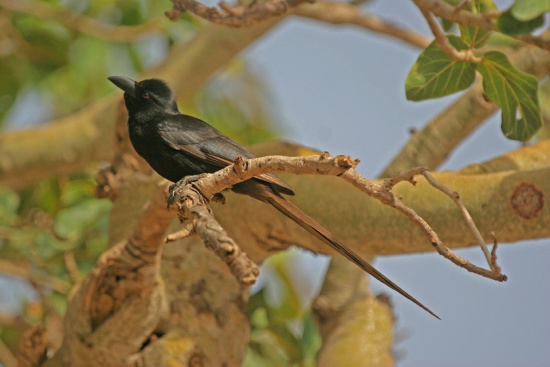 Ptilostomus afer
Identification
Black, purple gloss, silky feathers, black bill, legs and feet.
Distribution
Central Africa from Senegal on the west coast, eastwards in a broad band to Sudan and southern Ethiopia.
Taxonomy
The Piapiac (Ptilostomus afer) is a member of the crow family, and is the only member of the genus Ptilostomus. According to recent findings, it is most closely related to the Central Asian ground jays (genus Podoces) (Ericson et al., J. Avian Biol 36: 222-234, 2005).
Habitat
Cultivated land with fields and pasture and small associated towns and villages.
Behaviour
Diet includes insects, invertebrates, carrion, fruit.
They build their nests in trees, often a palm, and use palm leaves, grass stems, and mud to form a cup which is lined with palm fibre. 3-7 pale blue eggs are laid.
External Links