Dendrocoptes medius
Dendrocopos medius
Identification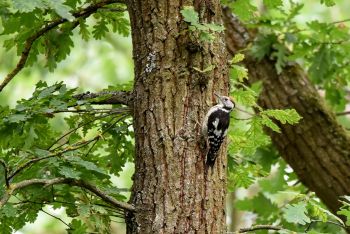 Length 19–22 cm, weight 50–85 g
Red crown above buffy-white face and forehead. Bill small for a woodpecker, dark grey. Black upperparts broken by white scapular patches and spots on wings. Black facial marks. Breast buffy white with dark streaks, grading into pink vent.
Male has brighter, glossier, and slightly more extensive red crown than female, but otherwise sexes identical in plumage. Juvenile as female.
Similar Species
Juvenile Great Spotted Woodpecker; black moustachial stripes meet at bill and nape; this and Syrian Woodpecker are stouter with larger, stronger bills. White-backed Woodpecker distinctly larger, with more barred back.
Distribution
Almost confined to the Western Palearctic occurring elsewhere only in northern and south-west Iran.
Breeds from Brittany and central France east across Europe to about 42°E in Russia. In the north reaches the southern Baltic coast from Germany to Lithuania. To the south absent from the Alps and most of Italy but occurs throughout the Balkans south to southern Greece and Lesvos, in Turkey except the interior, and in the Caucasus. Isolated pockets in the Pyrenees and Cantabrians, perhaps northern Italy and parts of southern Italy. Formerly more widespread, but range has contracted in some areas, once breeding in southern Sweden and Denmark (last bred 1959); commonest in the southeast of Europe. Despite this has recently begun to breed in the Netherlands, Latvia and Lithuania.
Mainly resident but some wander in autumn and winter.
Vagrants recorded in Portugal, the Netherlands, Denmark and Estonia, also Iraq.
Taxonomy
Subspecies
Four subspecies are currently accepted[1][2]:
Zagros Mountains (south-western Iran)
D. m. caucasicus has yellower underparts and less red on vent. D. m. anatoliae is similar but smaller.
Habitat
Found mainly in warm, sunny deciduous forest and woodland, particularly oak and hornbeam, also in alder and beech.
Behaviour
Feeds more on smaller outer branches than Great Spotted Woodpecker.
Vocalisation
The call is a series of 'kik' notes, with the first note slightly higher pitch than the rest. Almost never drums.
Diet
Mainly insects and other wood-dwelling invertebrates. Also eats some fruit, nuts, and sap.
Breeding
Nest is excavated in rotten trunk or thick branch. Entrance hole around 4cm
References
Gill, F. and Donsker, D. (Eds). 2017. IOC World Bird Names (version 7.3). Available at http://www.worldbirdnames.org/.
Clements, J. F., T. S. Schulenberg, M. J. Iliff, D. Roberson, T. A. Fredericks, B. L. Sullivan, and C. L. Wood. 2018. The eBird/Clements checklist of birds of the world: v2018. Downloaded from http://www.birds.cornell.edu/clementschecklist/download/
Collins Field Guide 5th Edition
Collins Bird Guide ISBN 0 00 219728 6
Recommended Citation
External Links
GSearch checked for 2020 platform.1