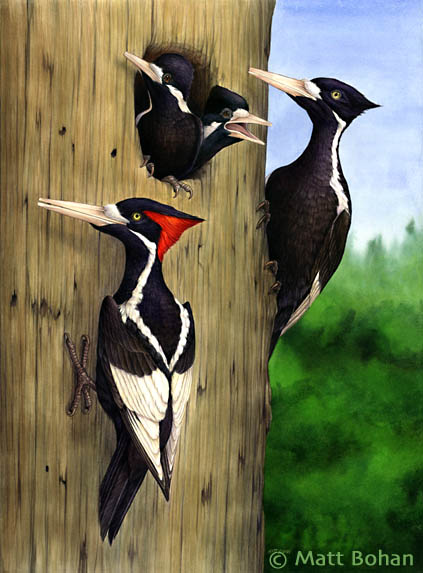 Campephilus principalis
Identification
North America's largest woodpecker, distinguished from the Pileated Woodpecker by its white bill, larger size, and large white wing patch. The female is or was the only large woodpecker in North America with an all-black crest.
Distribution
Possibly extinct. The historic range included the southeastern United States and Cuba. The last unquestioned reports of the species in the United States were in the early 1940s, from the Singer tract in Louisiana. The Cuban population lingered on into the 1980s, but has not been reported since. Claims since 2005 that the species has been rediscovered in Arkansas and Florida have caused much controversy, with critics charging that the evidence presented is ambiguous enough to have been produced by the combination of a Pileated Woodpecker sighting and wishful thinking.
Taxonomy
The Ivory-bill's closest relative is the equally endangered Imperial Woodpecker of central Mexico.
The Cuban subspecies C. p. bairdii has been proposed as a separate species.
Habitat
The nominate subspecies was usually found in bottomland swamp forest. The Cuban subspecies seems to have preferred montane pine forest.
Behaviour
External Links