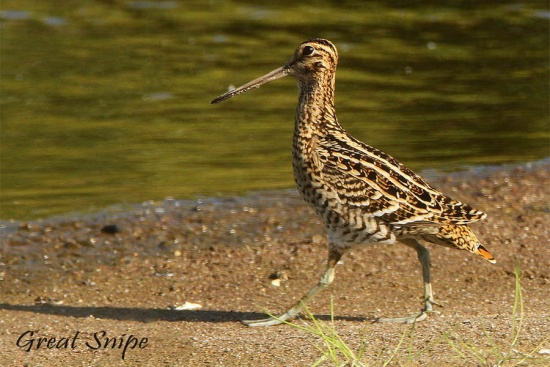 Gallinago media
Identification
27–29 cm (10½-11½ in)
Distribution
Breeds in northern Palearctic; winters to sub-Saharan Africa.
Taxonomy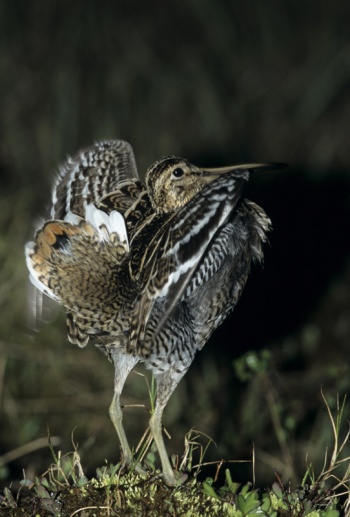 This is a monotypic species[1].
Habitat
Marshland, pasture and wetland.
Behaviour
Diet
Their diet consists mostly of worms and beetles; also seeds.
Movement
Migratory: recent results show that Great Snipe regularly fly non-stop from northern Europe to sub-Saharan Africa, with the longest such flight being 6800 km during 84 hours for a speed of about 96 km/hour. Returning in spring, there seemed to be a non-stop flight across Sahara to Balkan where the birds fed before continuing north.
Vocalisation
Lekking: in the last seconds of its display it blows up like a balloon and makes a pit-pit-pit-prrrrrrrr - sound before the chest returns to normal.
References
Clements, J. F., T. S. Schulenberg, M. J. Iliff, D. Roberson, T. A. Fredericks, B. L. Sullivan, and C. L. Wood. 2016. The eBird/Clements checklist of birds of the world: v2016, with updates to August 2016. Downloaded from http://www.birds.cornell.edu/clementschecklist/download/
BF Member Observations
Handbook of the Birds of the World Alive (retrieved August 2014)
Recommended Citation
External Links
GSearch checked for 2020 platform.