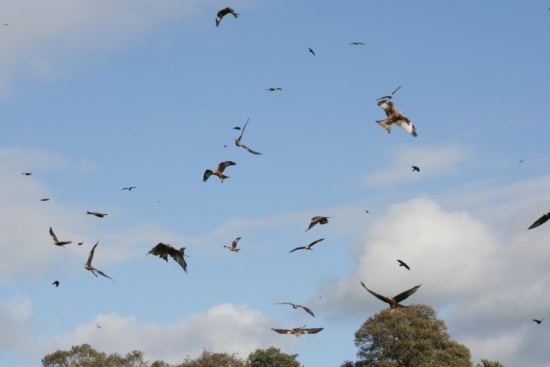 Overview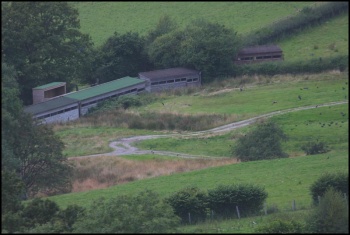 Gigrin Farm is a family-run, working sheep farm of approximately 170 acres, situated in the countryside of Mid Wales, just outside the town of Rhayader.
They have a reputation of having hundreds of Red Kite feeding every day, creating what's been described as a "breathtaking spectacle." Since approximately 2003, they have also been known as the Red Kite Rehabilitation Centre in conjunction with The Welsh Kite Trust.
This farm's land sits at between 700 to 1200 feet above sea level, where it gives visitors a nice view of the Wye and Elan valleys, in addition to the memorable display of feeding large flocks of Red Kite. [1]
Birds
Notable Species
The predominately seen Red Kite would have to be included here, if no other.
One might think there would be no other appreciable variety of species sighted here with the preponderance of Red Kites the farm is noted for. But there has been, over time, 75 species reported here, including large numbers of their famous Red Kites leading the way. [2]
In Powys, where Gigrin is located, there has also been a total of 266 species reported along with 9 globally threatened ones [3]
Rarities
Some of the less commonly seen species here at Gigrin Farm include[2] the Dunnock, Common Redstart, Song Thrush, Eurasian Treecreeper, Eurasian Jay, Eurasian Collared-Dove, Common Redpoll, Rock Pigeon, and the Common Chiffchaff.
Check-list
Birds you can see here include:
Red Kite, Rook, European Starling, Carrion Crow, Eurasian Jackdaw, Barn Swallow, Great Tit, House Sparrow, Common Buzzard, Common Chaffinch,
Other Wildlife
None noted as of 7 October 2020.
Site Information
History and Use
Gigrin Farm has always been a working farm. In the beginning, one of the owners, Mr. Powell fed the Red Kites when he had appropriate food to give them, at the time rabbit.
The Royal Society for the Protection of Birds took notice of the feeding that was going on and in the winter of 1992-1993 came forward with a proposal that this feature be opened to public viewing with the hope that by doing so, it would help facilitate an effort help protect the birds.
This was a major move for them, considering they were a successful farm already, to take on. But they took the chance and the approximately 6 Red Kites they had roosting, in the beginning, evolved into over 400 by the winter of 2006. Red Kites are what they are known for now. [1]
Areas of Interest
The farm has a variety of ways to observe the feeding, including an open viewing field, hides, and photographic hides.
Access and Facilities
Do keep in mind there will be an admission fee charged here. The amount, along with their hours of operation can be determined at their website, the address of which can be found here under External Links or Contact Details.
Contact Details
Gigrin Farm
South Street, Rhayader,
Powys, LD6 5BL
Telephone:
01597 810 243
Website:
References
Gigrin Farm - https://www.gigrin.co.uk/
eBird – Gigrin Farms - https://ebird.org/hotspot/L1032168
Lepage D. (2020) Powys Bird Checklist - Avibase - Bird Checklists of the World. Retrieved 7 October 2020
Recommended Citation
External Links
Maps
Content and images originally posted by Stuart
Reviews
Stuart's review
Got to be a must for the best views of Red Kites, went there on 04/09/04, had about 40 - 50 kites in flight and at rest...
and my tip would be to go to the feeding and then wait in the field over looking the site and when everybody has gone, the kites come back giving amazing views!!
tommye's review
Very helpful staff - will tell you the best places to look at the red kites. I agree with the descriptive paragraph that the red kites will come back after most people have left and can be photographed from the field above the feeding station. Pros
Place set up for enthusiasts to look at / photograph birds
Cons
MerlinLewis's review
A must for anyone in mid Wales or make a special journey it is only about 1-30 hrs from Cardiff. Pros
Amazing views of many Kites at close range!
Cons