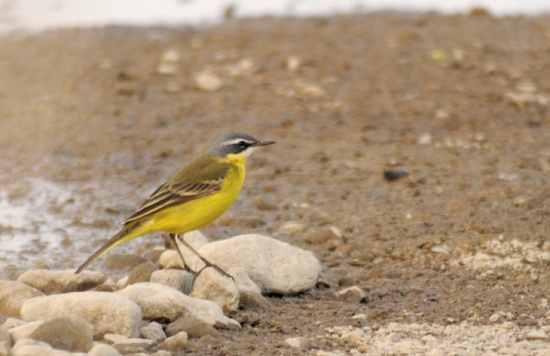 Alternate names: Green-headed Wagtail, Yellow Wagtail (in part).
Motacilla tschutschensis
Identification
Head dark blue-grey, supercilium white, dull greyish-olive upperparts, throat white and lemon-yellow breast often spotted with olive.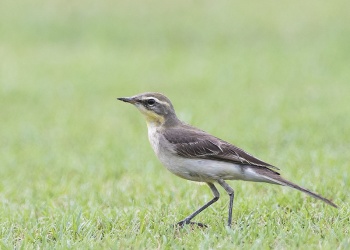 Distribution
Breeds in Alaska, Siberia and Mongolia. Winters to India, southeast Asia and Australia.
Recorded as a vagrant in Israel, Europe and California
Taxonomy
This species has been included in Yellow Wagtail (now named Western Yellow Wagtail) in the past.
Subspecies
Four subspecies accepted1:
Habitat
Various open habitats, lowland grassland and wet meadows.
Behaviour
Roosts communally, sometimes in large numbers.
Flight
Markedly dipping flight. Walks and runs, constantly dipping tail.
Diet
The diet includes small insects, flies and beetles.
Breeding
Territorial. They usually breed singly, nesting in tussocks, laying 4-8 speckled eggs. Nest built primarily by female. Both sexes incubate and feed young. Occasionally parasitized by Common Cuckoo
Vocalisation
Call is a thin buzzy tsweep, bzi or zi similar to calls of Citrine Wagtail; more raspy than Western Yellow Wagtail. Song from a perch is a short series of twittered notes.
References
Clements, J. F., T. S. Schulenberg, M. J. Iliff, D. Roberson, T. A. Fredericks, B. L. Sullivan, and C. L. Wood. 2018. The eBird/Clements checklist of birds of the world: v2018. Downloaded from http://www.birds.cornell.edu/clementschecklist/download/
Alström, P. & Mild, K. (2003) Pipits & Wagtails of Europe, Asia and North America. Identification and Systematics. Christopher Helm, London.
Badyaev, A. V., B. Kessel, and D. D. Gibson (1998). Eastern Yellow Wagtail (Motacilla tschutschensis), version 2.0. In The Birds of North America (A. F. Poole and F. B. Gill, Editors). Cornell Lab of Ornithology, Ithaca, NY, USA. https://doi.org/10.2173/bna.382
Bot, Sander & Groenendijk, Dick & Van Oosten, Herman. (2014). Eastern yellow wagtails in Europe: identification and vocalisations. Dutch Birding. 36. 295-311. PDF
California Bird Records Committee [CBRC] (R. A. Hamilton, M. A. Patten, and R. A. Erickson, eds.). 2007. Eastern Yellow Wagtail (Motacilla tschutschensis) in: Rare Birds of California, Western Field Ornithologists, Camarillo, CA: (retrieved from Rare Birds of California Online: http://www.wfopublications.org/Rare_Birds/Eastern_Yellow_Wagtail/Eastern_Yellow_Wagtail.html on 18 Setpember 2018).
Christidis et al. 2014. The Howard and Moore Complete Checklist of the Birds of the World, version 4.1 (Downloadable checklist). Accessed 18 September 2018 from https://www.howardandmoore.org/
del Hoyo, J. & Collar, N. (2018). Eastern Yellow Wagtail (Motacilla tschutschensis). In: del Hoyo, J., Elliott, A., Sargatal, J., Christie, D.A. & de Juana, E. (eds.). Handbook of the Birds of the World Alive. Lynx Edicions, Barcelona. (retrieved from https://www.hbw.com/node/1344120 on 19 September 2018).
Gill, F & D Donsker (Eds). 2018. IOC World Bird List (v8.2). doi : 10.14344/IOC.ML.8.2. Available at http://www.worldbirdnames.org/
Harris RB, P Alström, A Ödeen & AD Leaché. 2018. Discordance between genomic divergence and phenotypic variation in a rapidly evolving avian genus (Motacilla). Molec. Phy. Evol. 120 183-195.
Recommended Citation
External Links
GSearch checked for 2020 platform.1