Alternative name: White-collared Myna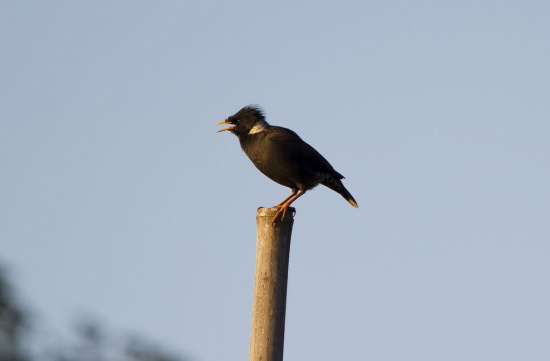 Acridotheres albocinctus
Identification
25cm. A large, distinctive Myna.
White neck collar
Black head with short nasal crest
Grey-black upperparts, slightly paler and duller underparts
Black wing with small white wing patch
Black undertail-coverts barred white
Black tail with white tips
Pale blue or azure blue-eye
Orange-yellow bill
Yellow legs
Sexes similar. Juveniles are browner than adults and have a pale throat.
Distribution
Found in extreme northeast India (Manipur), northern Burma and souther China (northwest Yunnan).
Uncommon to locally common. Poorly known.
Taxonomy
This is a monotypic species.
Habitat
Found in open grassland and moist areas like marshland. Also in cultivated areas and villages. Occurs from 800 - 1200m, in Burma up to 1525m.
Behaviour
Feeds on animal and plant food.
Forages mostly on the ground, often in flocks and often together with Great Myna. Often seen near cattle and buffalos.
Breeding season from April to June. A colonial breeder. The nest is placed in a tree hole or in a bank or hollow in a wall. Lays 4 eggs.
A resident species. Some local movements may occur.
References
Clements, J. F., T. S. Schulenberg, M. J. Iliff, B.L. Sullivan, C. L. Wood, and D. Roberson. 2012. The eBird/Clements Checklist of Birds of the World. 6th ed., with updates to October 2012. Ithaca: Cornell Univ. Press. ISBN 978-0801445019. Spreadsheet available at http://www.birds.cornell.edu/clementschecklist/downloadable-clements-checklist
Del Hoyo, J, A Elliott, and D Christie, eds. 2009. Handbook of the Birds of the World. Volume 14: Bush-shrikes to Old World Sparrows. Barcelona: Lynx Edicions. ISBN 978-8496553507
Recommended Citation
External Links