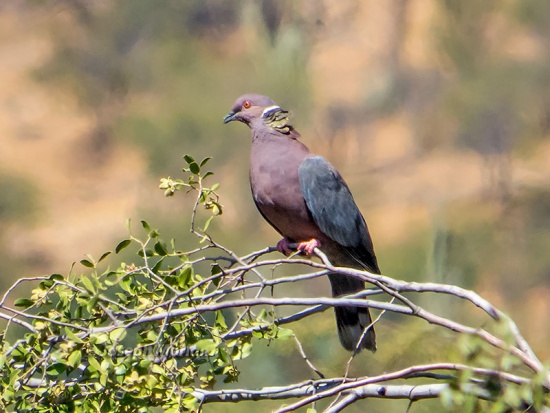 Patagioenas araucana
Columba araucana
Identification
34–35 cm (13¼-13¾ in)
Wine-coloured body
Grey wings
iridescent greenish neck patch
Thin white band at back of neck
Red iris and legs
Blackish-grey bill
Distribution
South America: found in central and southern Chile and Argentina.
Taxonomy
This is a monotypic species[1].
This species has previously been placed in genus Columba.
Habitat
Southern beech forest and rain forest.
Behaviour
Diet
They eat a wide variety of fruit and berries, particularly Araucaria fruit. They often feed in groups.
Breeding
They often nest in bamboo thickets, building a platform nest from sticks. The clutch consists of 1 white egg.
References
Clements, J. F., T. S. Schulenberg, M. J. Iliff, D. Roberson, T. A. Fredericks, B. L. Sullivan, and C. L. Wood. 2017. The eBird/Clements checklist of birds of the world: v2017, with updates to August 2017. Downloaded from http://www.birds.cornell.edu/clementschecklist/download/
Arthur Grosset
avesdechile
Handbook of the Birds of the World Alive (retrieved Apr 2018)
Recommended Citation
External Links