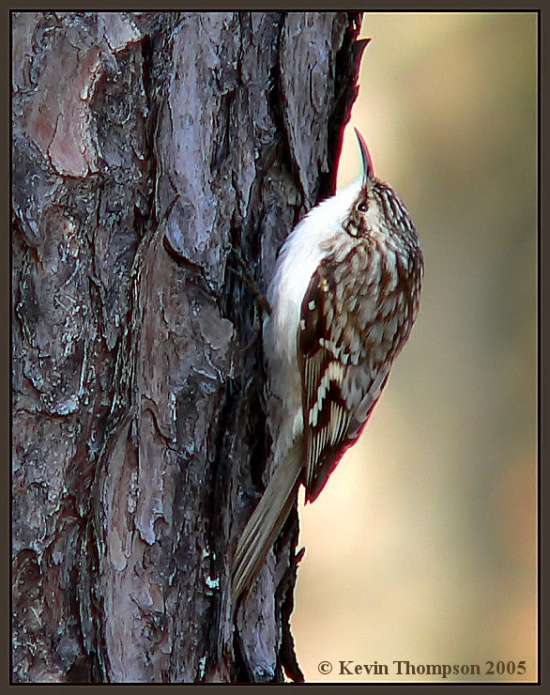 Alternative name: American Treecreeper.
Certhia americana
Identification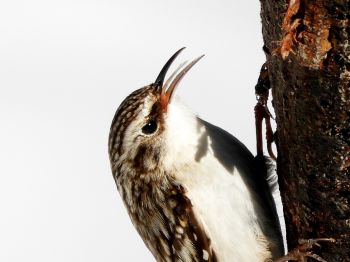 5-5 3/4" (13-15 cm). Smaller than a sparrow.
A slender, streaked, brown bird, tinged with buff on flanks.
Distribution
Breeds from Alaska, Ontario, and Newfoundland southward throughout western mountains, Great Lakes region, North Carolina, and New England.
Winters in breeding range and south to Gulf Coast and Florida.
Taxonomy
American Treecreeper is one of eight treecreepers in the genus Certhia; at least the two species in Europe are quite similar to the American species in also being cryptically patterned.
Subspecies[1]
About twelve subspecies of Certhia americana are currently recognized:
Habitat
Deciduous and mixed woodlands.
Behaviour
This species is usually seen creeping up tree trunks, using its long, stiff tail for support
Breeding
The clutch consists of 6 or 7 white eggs, lightly speckled with brown, in a cup of bark shreds, feathers, sticks, and moss, usually placed against a tree trunk behind a peeling slab of bark.
Vocalisation
Call: A high-pitched, lisping tsee.
Song: A tinkling, descending warble.
References
Clements, J. F., T. S. Schulenberg, M. J. Iliff, S. M. Billerman, T. A. Fredericks, J. A. Gerbracht, D. Lepage, B. L. Sullivan, and C. L. Wood. 2021. The eBird/Clements checklist of Birds of the World: v2021. Downloaded from https://www.birds.cornell.edu/clementschecklist/download/
Recommended Citation
External Links
GSearch checked for 2020 platform.1