This article is incomplete.
This article is missing one or more sections. You can help the BirdForum Opus by expanding it.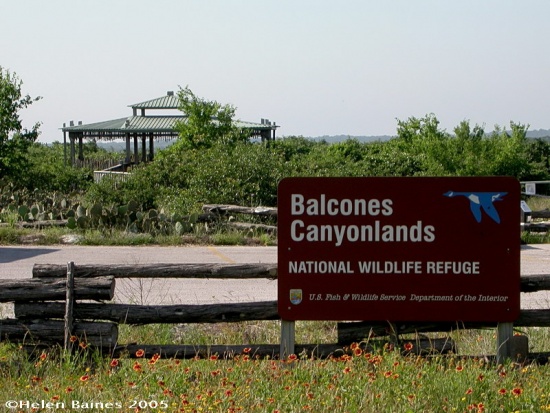 Overview
Balcones Canyonlands NWR is located in the Texas Hill Country, on the northern side of Lake Travis, between Marble Falls and Austin. The most important purpose of this refuge is to conserve the nesting habitat of two endangered songbird species, the Golden-cheeked Warbler and Black-capped Vireo.
The Balcones Songbird Festival is held in April each year
Birds
Notable Species
Black-capped Vireo and the Golden-cheeked Warbler.
Rarities
To do
Checklist
Birds you can see here include:

To do
Other Wildlife
To do
Site Information
History and Use
The refuge was established in 1992 to protect the nesting habitat of the endangered Golden-cheeked Warbler and Black-capped Vireo. It has been designated an official Globally Important Bird Area and receives about 20,000 visitors a year. The refuge is about 1 hour's drive NW of Austin.
Areas of Interest
Balcones Canyonlands is a very large refuge with 3 areas suitable for bird watching:
Doeskin Ranch
Warbler Vista
Refuge Headquarters
Access and Facilities
Refuge Headquarters is open Mon-Fri, 8am-4:30pm, except for Federal Holidays
Refuge Headquarters is located on FM 1432, about 5 miles west of Lago Vista
For a location map, see in External Links, below
Public entry is permitted to all units which are open to the public, from sunrise to sunset, daily
No entrance fees
No camping, open fires or pets allowed
There are trails ranging from 0.2 to 2.2 miles in length at Doeskin Ranch, Warbler Vista and the Refuge Headquarters.
Contact Details
Balcones Canyonlands NWR
24518 FM 1431
Marble Falls, TX 78654
External Links
Content and images originally posted by charri & HelenB
Reviews
Steve Gross's review I've spent quite a bit of time here, and I really enjoy the fact that it's not a "touristy" location. Golden-cheeked Warblers and Black-capped Vireos give often great views at close quarters to those willing to be persistent. The priority at this refuge is clearly the endangered species that breed here, and that's fine by me. There is a Songbird Festival that offers field trips into not-usually-public sections of the refuge with knowlegeable trip leaders. Chuck Sexton is a fantastic guy and a great biologist. It's a pleasure to bird with him.
The Doeskin Ranch offers hiking opportunities through a nice variety of habitats, including Golden-cheek territories.
Make sure to bird along the Cow Creek Road when you pass between Warbler Vista and Doeskin Ranch. Pros
Great access to endangered species
no crowds
Cons
(Minor negatives) No visitor center
few amenities
ajmeyer5's review I spent several hours in the refuge one Saturday in early May 2006. I managed to find and photograph my first Golden Cheeked Warbler (very active little guy) at the Doeskin Ranch area by the creek about 100 yards from the parking lot. At the Shin Oak observation deck I heard and got a brief view of the Black-capped Vireo (very reclusive), and saw the Yellow-throated Vireo. Several other area residents and a late migrant or two made for a great outing. The temperature was still pleasant at that time of year. You can expect it to be very hot June through August in central Texas. Pros
Cons
limited observations points several miles apart