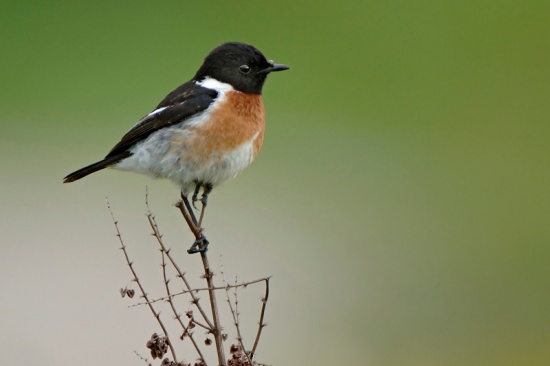 Saxicola torquatus
Includes: Madagascar Stonechat
Identification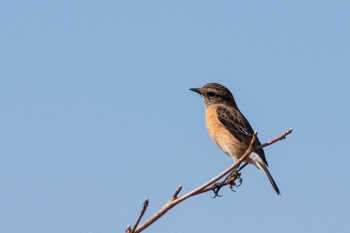 12.5 cm (5 in)
Black head
White rear collar
Rufous breast
Distribution
Africa (including Madagascar) and Arabia.
Taxonomy
Was formerly included in Common Stonechat.
Subspecies
There are around 16 subspecies.[1]:
S. t. jebelmarrae: Western Sudan (Darfur region)
S. t. nebularum: Highlands of Sierra Leone, Guinea, Liberia and western Ivory Coast
S. t. adamauae: Highlands of northern and western Cameroon
S. t. pallidigula: Cameroon Mountain and Bioko
S. t. promiscuus: Highlands of eastern Tanzania
S. t. stonei: Angola to western Tanzania, southern Mozambique and northern Cape Province
S. t. clanceyi: Coastal western Namibia to north-western Cape Province
S. t. torquatus: South-western Cape Province to Natal and Transvaal
S. t. oreobates: Highlands of Lesotho; winters to eastern Zimbabwe and southern Mozambique
S. t. voeltzkowi: Grand Comoro Island
S. t. albofasciatus: Ethiopian Stonechat): Western and central Ethiopia, southeastern South Sudan, and northeastern Uganda
S. t. sibilla: Madagascar Stonechat: Madagascar
Habitat
Savanna, grassland, wetlands and marshes.
Behaviour
Most often seen in pairs perched up on a stick or shrub. It flies down onto the ground, returning to the same perch. Often flicks its wings.
Diet
Their diet consists mainly of insects and worms.
Breeding
Breeds mainly in the summer months. The nest is well hidden inside a clump of vegetation and consists of an untidy bowl of grass and rootlets. It is lined neatly with rootlets and animal hairs.
References
Clements, J. F., T. S. Schulenberg, M. J. Iliff, S. M. Billerman, T. A. Fredericks, B. L. Sullivan, and C. L. Wood. 2019. The eBird/Clements Checklist of Birds of the World: v2019. Downloaded from http://www.birds.cornell.edu/clementschecklist/download/
BirdLife International
Collar, N. (2020). Common Stonechat (Saxicola torquatus). In: del Hoyo, J., Elliott, A., Sargatal, J., Christie, D.A. & de Juana, E. (eds.). Handbook of the Birds of the World Alive. Lynx Edicions, Barcelona. (retrieved from https://www.hbw.com/node/58515 on 8 March 2020)
Recommended Citation
External Links
GSearch checked for 2020 platform.1