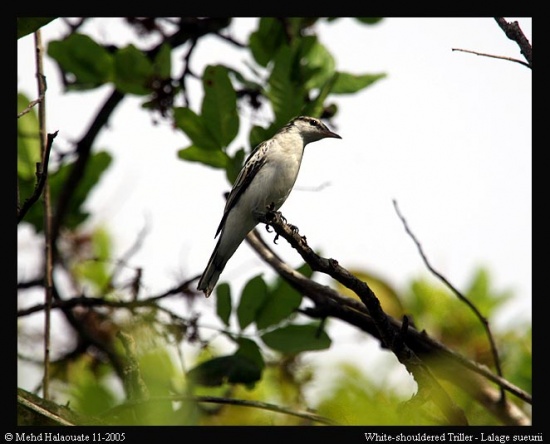 Lalage sueurii
Identification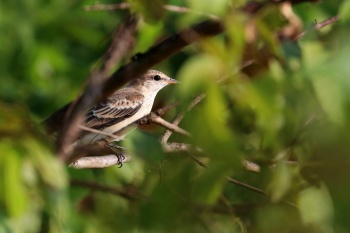 17–18 cm (6¾-7 in)
Male
Black upperparts
White underparts
Grey rump
White stripe over the eye
White wing-patches
White outer tail-feathers
Grey black-tipped bill
Black legs and feet

Females
Brown upperparts
Fine black barring on the underparts
Otherwise similar markings to the male
Distribution
Eastern Java, Bali, Sulawesi subregion and Lesser Sundas.
Taxonomy
White-winged Triller and White-shouldered Triller are considered conspecific (as White-winged Triller L. sueurii) by Boles and Cristidis, Birds Australia and Clements (2010). Dickinson (2003) and Gill and Donsker (2010) (and Opus) recognise two separate species.
This is a monotypic species[1].
Habitat
They can be found in open forest, woodland, scrub and savanna; also in overgrown and lightly wooded cultivated areas.
Behaviour
There is no detailed information, but it is presumed that they eat insects, which they forage for in short grass.
References
Clements, J. F., T. S. Schulenberg, M. J. Iliff, D. Roberson, T. A. Fredericks, B. L. Sullivan, and C. L. Wood. 2017. The eBird/Clements checklist of birds of the world: v2017, with updates to August 2017. Downloaded from http://www.birds.cornell.edu/clementschecklist/download/
Handbook of the Birds of the World Alive (retrieved July 2018)
Wikipedia
BF Member observations
Recommended Citation
External Links