This article is incomplete.
This article is missing one or more sections. You can help the BirdForum Opus by expanding it.
Alternative name: Celebes Imperial Pigeon; Emerald Imperial Pigeon; Forster's Imperial Pigeon; Green-and-white Zone-tailed Pigeon; Green-and-white Imperial Pigeon; White-bellied Imperial igeon; Celebes Zone-tailed Imperial Pigeon; Celebes Large Zone-tailed Pigeon
Ducula forsteni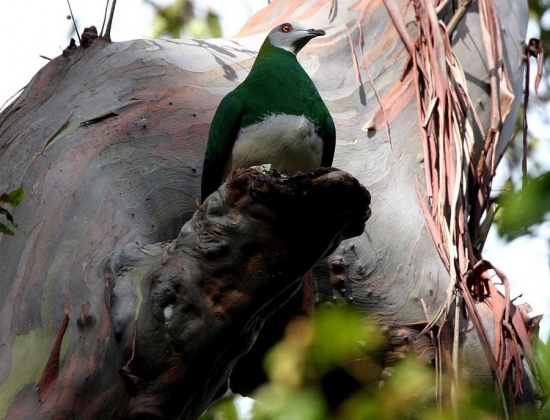 Identification
A large pigeon with white head and belly, red eye-skin and green breast, neck collar and back. The tail is green with a grey medial band.
Distribution
Endemic to Sulawesi and the Sula Islands. South East Asia: Indonesia: Greater Sundas.
Taxonomy
Monotypic[1] although the Sula Is population may warrant subspecific status[2].
Habitat
Moist lowland forests and montanes.
Behaviour
References
Clements, JF. 2008. The Clements Checklist of Birds of the World. 6th ed., with updates to December 2008. Ithaca: Cornell Univ. Press. ISBN 978-0801445019.
A Guide to the Birds of Wallacea by Brian J. Coates and K. David Bishop 1997
External Links