Alternative name: Timor Bushchat; White-bellied Chat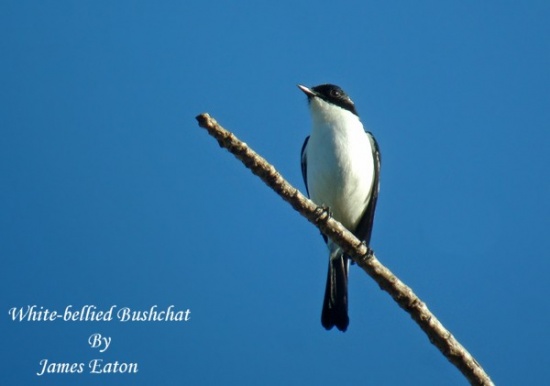 Saxicola gutturalis
Identification
15.5 - 17cm (6-6¾ in).
Male
Black upperparts and head
White chin, throat and underparts
Large white wing patch, white bases of outer tail (luctuosus with less white in wings)
Sometimes short white supercilium over ear-coverts
Female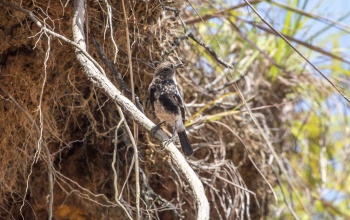 Brownish upperparts
Pale brown supercilium
Creamy-buff underparts
Juveniles are undescribed
Similar species
Male is very similar Jerdon's Bushchat (but note white in wing), female to female of Grey Bushchat.
Distribution
Endemic to Timor and some small adjacent islands.
Locally common restricted-range species.
Taxonomy
Subspecies
Two subspecies recognized:
S. g. gutturalis on Timor and probably also Rote Island
S. g. luctuosus on Semau Island, off southwest Timor
Habitat
Moist lowland forests and dry savanna up to 1200m.
In savanna usually replaced by Pied Bushchat.
Behaviour
Diet
Feeds on insects. Forages by sallying and gleaning in canopy.
Breeding
Breeding season October to November, also May to June. One recorded nest was placed inside a dead hollow branch of an Eucalyptus tree. Lays possibly just 2 eggs.
References
Clements, J. F., T. S. Schulenberg, M. J. Iliff, D. Roberson, T. A. Fredericks, B. L. Sullivan, and C. L. Wood. 2016. The eBird/Clements checklist of birds of the world: v2016, with updates to August 2016. Downloaded from http://www.birds.cornell.edu/clementschecklist/download/
Del Hoyo, J, A Elliot, and D Christie, eds. 2005. Handbook of the Birds of the World. Volume 10: Cuckoo-Shrikes to Thrushes. Barcelona: Lynx Edicions. ISBN 978-8487334726
Recommended Citation
External Links