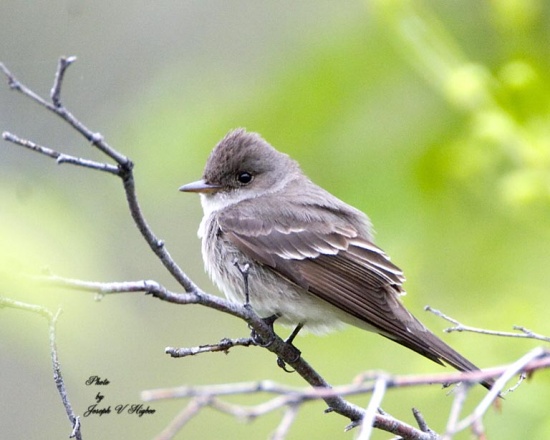 Contopus sordidulus
Identification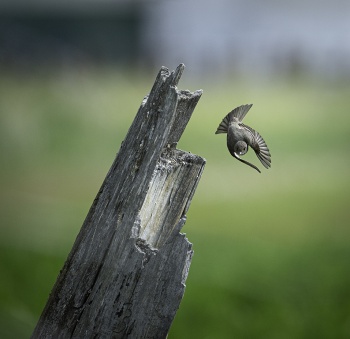 14-16 cm (5.5-6.3 in)

Grey-olive upperparts
Dark bill
Closed vested appearance
Dark cap and slight crest
Throat usually gray, sometimes whitish
Whitish belly
Undertail coverts streaked.
Whitish wing-bars fade with wear
Long primary projection
Sexes are similar.
Similar Species
Not safely distinguished from Eastern Wood-Pewee except by voice. Olive-sided Flycatcher is larger with heavier bill; has an open vest with faint streaking on the sides; lacks obvious wing-bars; song very different. Greater Pewee lacks vested appearance.
Distribution
Western North America.
Taxonomy
Forms a superspecies with Eastern Wood-Pewee and members of the former Tropical Pewee group.
Subspecies
This is a polytypic species. Four subspecies are currently recognized[1].
Southeast Alaska to western Oregon; winters to northern South America.
Eastern Alaska to Texas and northern Mexico; winters to South America.
Southern Baja California; winters to northwestern South America.
Habitat
Open wooded areas and orchards.
Behaviour
Actions
Perches in the open, sallying out after flying insects and returning to the same perch.
Breeding
They build an open cup nest and 2-3 eggs are laid. Both parents feed the young.
Diet
Includes insects, spiders and berries.
Vocalisation
Main song is a down-slurred short burry, nasal "pweer" sung from an exposed perch, and heard throughout the day. Dawn song is a long "peee" followed by two short pip pip notes. Calls include a burry "bzew" and a clear down-slurred "pweew."
Movements
Medium-distance to long-distance migrant, wintering in South America.
References
Clements, J. F., T. S. Schulenberg, M. J. Iliff, S. M. Billerman, T. A. Fredericks, B. L. Sullivan, and C. L. Wood. 2019. The eBird/Clements Checklist of Birds of the World: v2019. Downloaded from http://www.birds.cornell.edu/clementschecklist/download/
Bemis, C. and J. D. Rising (2020). Western Wood-Pewee (Contopus sordidulus), version 1.0. In Birds of the World (A. F. Poole and F. B. Gill, Editors). Cornell Lab of Ornithology, Ithaca, NY, USA. https://doi.org/10.2173/bow.wewpew.01
Cornell Lab of Ornithology. 2019. Western_Wood_Pewee in: All About Birds. Cornell Lab of Ornithology, Ithaca, New York. https://www.allaboutbirds.org/ Accessed on 17May 2020.
Recommended Citation
External Links
Search the Gallery using the scientific name:
Search the Gallery using the common name:
GSearch checked for 2020 platform.