Alternative names: Black-billed Whistling-Duck, Cuban Whistling-Duck
Dendrocygna arborea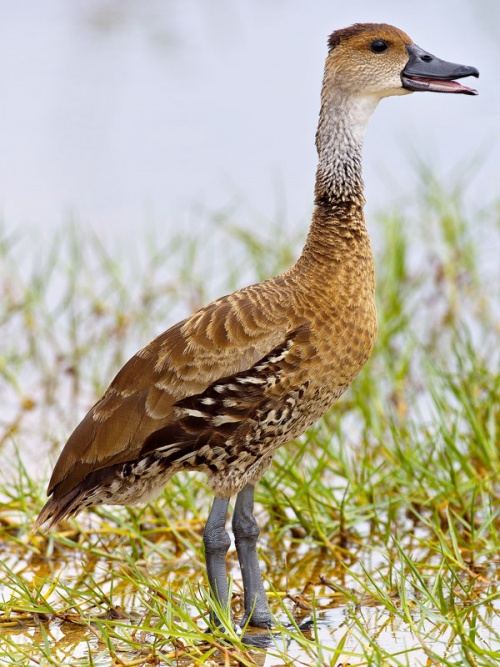 Identification
48-58 cm. Long black bill, long head and legs, pale foreneck, light brown face, dark brown-black crown, back, breast and wings, white underparts with heavy black markings. Sexes are similar; juveniles are duller.
Distribution
Cuba, Cayman Islands, Bahamas, Turks and Caicos Islands, Hispaniola, Puerto Rico, Virgin Islands, and Antigua and Barbuda.
Taxonomy
This species is monotypic.[1]
Habitat
Wooded swamps, mangroves and rice plantations, so found in both freshwater and saltwater environs.
Behaviour
Nocturnal feeder, most often will be concealed in places like mangroves during day.
They nest in tree cavities, on branches, in clumps of bromeliads, and on the ground under thatch palms and other dense bushes. 10-16 eggs are laid.
Their diet includes plant food.
References
Clements, JF. 2008. The Clements Checklist of Birds of the World. 6th ed., with updates to December 2008. Ithaca: Cornell Univ. Press. ISBN 978-0801445019.
Raffaele, H, J Wiley, OH Garrido, A Keith, JI Raffaele. 2003. Birds of the West Indies. Princeton: Princeton Univ. Press. ISBN 978-0691113197
External Links