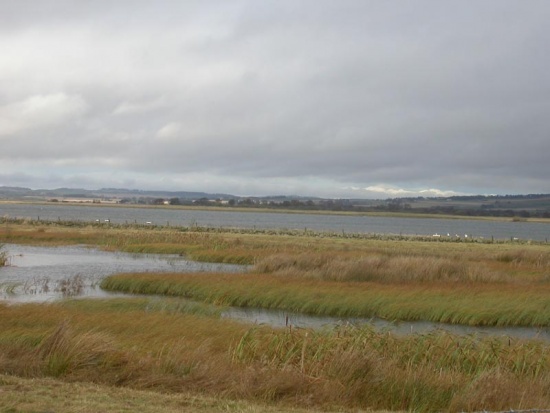 Alternative name: Vane Farm
Scotland
Overview
An educational nature centre on the southern shore of Loch Leven, Vane Farm consists of a range of habitats which attract a wide variety of birds.
As well as the loch itself there are marshy areas and shallow lagoons, farmland and moorland with rocky crags, birch woodland and bracken-covered slopes.
Birds
Notable Species
Around 130 species have been recorded on the reserve but the most important are the waterfowl. Whooper Swan, Greylag Goose and Pink-footed Goose winter in the area along with Eurasian Wigeon, Common Teal and Northern Shoveler. Tufted Duck, Common Pochard, Common Goldeneye and Goosander are regular, Bewick's Swan and Northern Pintail rather scarcer.
Waders such as Greenshank and Ruff occur on passage.
Common Shelduck, Gadwall and Common Teal are present all year as are Northern Shoveler, Common Pochard, Tufted Duck and Great Crested Grebe. Grey Partridge breeds on the farmland and Red Grouse, Eurasian Curlew and Northern Wheatear on the moorland.
The woodlands have Lesser Redpoll, Tree Pipit and warblers.
Northern Fulmar is occasionally seen over the reserve as there is a colony just outside the boundary more than 30km from the sea.
Rarities
Ring-necked Duck is among the rarer species recorded at Vane Farm, with Little Egret becoming a regular winter visitor. White-tailed Eagle is also a less frequent visitor.
Check-list
Birds you can see here include:
Little Grebe, Great Crested Grebe, Northern Fulmar, Little Egret, Grey Heron, Mute Swan, Bewick's Swan, Whooper Swan, Pink-footed Goose, Greylag Goose, Common Shelduck, Eurasian Wigeon, Gadwall, Common Teal, Mallard, Northern Pintail, Northern Shoveler, Common Pochard, Tufted Duck, Common Goldeneye, Goosander, Hen Harrier, Eurasian Sparrowhawk, Common Buzzard, Osprey, Common Kestrel, Merlin, Peregrine Falcon, Red Grouse, Grey Partridge, Water Rail, Northern Lapwing, Ruff, Jack Snipe, Common Snipe, Eurasian Woodcock, Black-tailed Godwit, Eurasian Curlew, Common Redshank, Common Greenshank, Green Sandpiper, Wood Sandpiper, Common Woodpigeon, Common Cuckoo, Long-eared Owl, Short-eared Owl, Green Woodpecker, Great Spotted Woodpecker, Eurasian Skylark, Sand Martin, Barn Swallow, Tree Pipit, Bohemian Waxwing, Meadow Pipit, Common Redstart, Whinchat, European Stonechat, Northern Wheatear, Eurasian Blackbird, Fieldfare, Song Thrush, Redwing, Blackcap, Common Chiffchaff, Willow Warbler, Spotted Flycatcher, Long-tailed Tit, Coal Tit, Blue Tit, Great Tit, Northern Raven, Eurasian Tree Sparrow, Chaffinch, Brambling, European Greenfinch, Eurasian Siskin, Eurasian Linnet, Twite, Lesser Redpoll, Common Bullfinch, Yellowhammer, Reed Bunting
Other Wildlife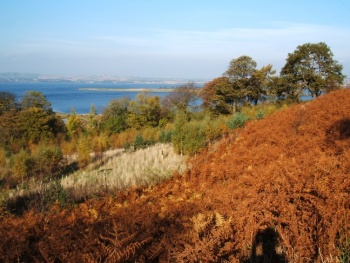 The different habitats have a wide range of plants including Common Butterwort Pinguicula vulgaris, Grass of Parnassus Parnassia palustris and various orchids in the marshy areas, Wood Sorrel Oxalis acetosella, Primrose Primula vulgaris and Wood Anemone Anemone nemorosa in the woodlands and Yellow Mountain Pansy Viola lutea and Rock Rose Helianthemum nummularium on the moors.
Site Information
Visiting is best from October to March.
Areas of Interest
There is a Scottish Natural Heritage hide on the other side of the loch. Accessed from the Kirkgate car park in Kinross.
Nearby Sites of Interest
Kilconquhar Loch
Kilconquhar Loch is a freshwater loch, with an ongoing birding presence, near a town by that same name in the Fife area.
The pronunciation of Kilconquhar is not what one might think, based upon the spelling of it, but correctly pronounced is, instead, Kin-nuchar. [5]
Access and Facilities
The reserve has a car-park; £3 for all day parking (2021), cafe and RSPB gift-shop, toilets and nature trails.
There is a Wetland Trail with three hides and a Woodland Trail leading up to a viewpoint. The nature centre has an observation room overlooking the loch and there is a resident teacher/naturalist and interactive displays. Most of the reserve has full access for wheelcair-users. School parties are welcome by appointment.
Vane Farm is reached on the B9097 Glenrothes road just east of Junction 5 of the M90.
Grid Ref: NT160990
Contact Details
Tel: 01577 862355
External Links
Content and images originally posted by Steve
Reviews
Stuart Watson's review Only 1 minute drive from Junction 5 of the M90, this RSPB reserve is simply great.
From the carpark in front of the visitor centre there are a few large trees with feeders and nestboxes attracting all the usual suspects - Blue tit, Great tit, Robin, Chaffinch etc. The staff inside the centre were most delightful, as were the scones and coffee in the cafe above. From here you can see everything-there are several powerful telescopes giving fantastic views over the loch and update boards indicating recent sightings (we were fortunate enough to see the resident Little egret and an early male Wheatear from here). A ramp allows easy wheelchair access to this area. On leaving the centre you can take the woodland walk or cross the road to the loch. Picnic areas can be found here at the beginning and half way up. Unfortunately on our visit we were short of time and had to miss out on this part - however, we heard from others Peregrine were in the area.
Cross the road via an underpass and a short walk between some bushes (look for Reed Bunting)leads to the first hide with surrounding teaching ponds for the kids (backpacks with binoculars, magnifying glass and activity sheet can be borrowed from the centre).
Hide one overlooks one of the quieter pools from which we observed Moorhen, Little grebe, Shoveler, Pochard and of course the vast quantites of geese -Greylag and Pink footed.
Another short walk to hides two and three(stopping to view Skylark, Kestrel and `save` a Common toad from being squished) offered a broader outlook and a closer look at Curlew, Coot, Mallard, Mute swan, Teal, Wigeon, Tufted duck and a fly by from a Sparrowhawk all within a couple of hours ended off a magic day.
This was all between 1 and 4pm on 25.3.05, and as mentioned before- we never made the woodland trail. I can`t imagine what a full day of birding at peak season would offer, but we will be going back to find out!! A definite must see - there are so many birds here that we overlooked the Gadwall,Lapwing and Grey heron, and just missed out on an Osprey.
Management co-operation between the Waterways, RSPB and local Council ensure the appropriate water levels of the loch throughout the year.
This is an amazing place to visit and highly convenient (PERTH, STIRLING, ST ANDREWS, DUNFERMLINE) if you happen to be travelling North.
There have been near 200 species recorded here over the years. Pros
Disabled access to viewing tower
Parking
Cafe
Toilets
Visitor centre
Friendly staff
Cons
None to think off - except maybe the Scottish weather