Bucanetes githagineus
Rhodopechys githaginea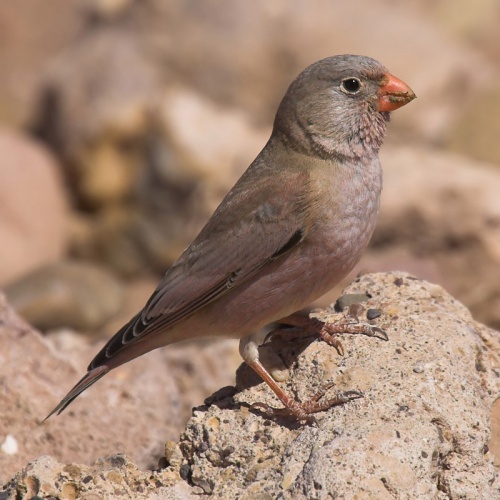 Identification
Large head and short, very thick bill
Breeding Male:
Red bill
Grey head and neck
Pale brown upper parts
Pink breast, rump
Pink tail with dark terminal feathers
Non-breeding males, females and young: less colourful than the breeding male
Distribution
Europe, Africa, Middle East, Asia
Europe: Portugal, Spain, Canary Islands, Malta
Northern Africa: Morocco, Algeria, Tunisia, Libya, Egypt
Western Africa: Mauritania, Mali, Nigeria, Niger, Chad
Eastern Africa: Sudan
Middle East: Turkey, Syria, Lebanon, Israel, Jordan, Arabian Peninsula, Saudi Arabia, Yemen, Oman, United Arab Emirates, Bahrain, Kuwait, Iraq, Iran, Armenia, Azerbaijan
Asia: Russia, Turkestan, Kazakhstan, Uzbekistan, Turkmenistan, Afghanistan, Pakistan, India
Taxonomy
Previously included in the genus Rhodopechys
Subspecies[1]
There are four subspecies:
Habitat
Stony desert or semi-desert.
Behaviour
Breeding
The clutch consists of 4 eggs which is laid in a nest in a rock crevice.
Diet
The main diet consists of seeds supplemented with insects during the breeding season.
References
Clements, JF. 2009. The Clements Checklist of Birds of the World. 6th ed., with updates to December 2009. Ithaca: Cornell Univ. Press. ISBN 978-0801445019.
Avibase
Wikipedia
Recommended Citation
External Links
GSearch checked for 2020 platform.