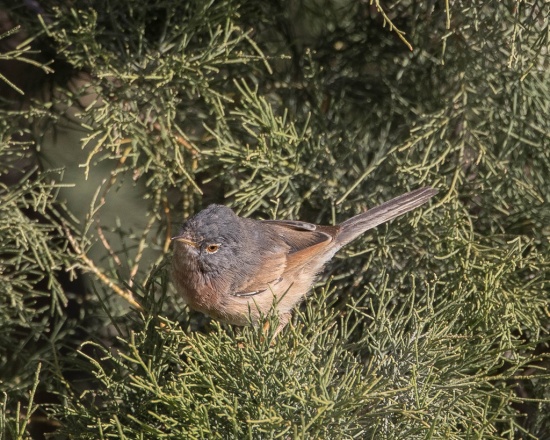 Curruca deserticola
Sylvia deserticola
Identification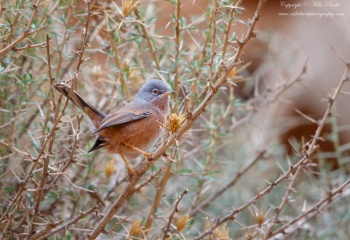 12 cm (4¾ in)
Male
Bluish-grey head, upperparts and upper wing-coverts
Pale eye
Reddish-brown underparts
Black-tipped yellowish bill
Pale eye-ring
Similar Species
Dartford Warbler, Spectacled Warbler, Western Subalpine Warbler, and Eastern Subalpine Warbler
Distribution
Endemic to Northern Africa: found in Morocco, Algeria, Tunisia, Libya and possibly Mauritania.
Taxonomy
This is a polytypic species[1] consisting of 2 subspecies.
Subspecies
Algeria (Atlas Saharien and Aurès ) and adjacent Tunisia
Habitat
Breeds in dry scrub, bare mountain slopes and heaths with scattered trees. Occurs at heights between 1000–2500 m.
Behaviour
The have a long tail, often held erect.
Diet
Their diet consists mostly of small arthropods, such as caterpillars, worms, ants and beetles.
References
Clements, J. F., T. S. Schulenberg, M. J. Iliff, S. M. Billerman, T. A. Fredericks, J. A. Gerbracht, D. Lepage, B. L. Sullivan, and C. L. Wood. 2021. The eBird/Clements checklist of Birds of the World: v2021. Downloaded from https://www.birds.cornell.edu/clementschecklist/download/
Avibase
Handbook of the Birds of the World Alive (retrieved Oct 2017)
Collins Bird Guide app
Recommended Citation
External Links
Search by scientific name:
Search by common name:
GSearch checked for 2020 platform.