Alternative names: Tristram's Grackle; Tristram's Red-winged Starling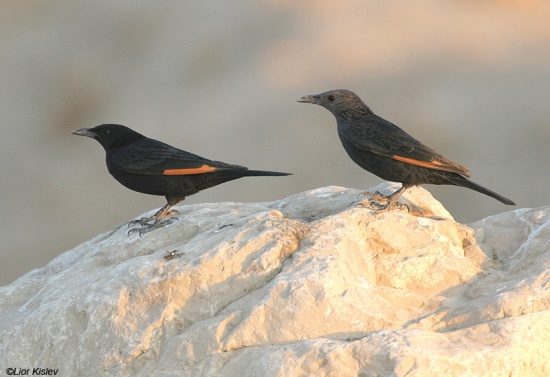 Onychognathus tristramii
Identification
25cm. A fairly large, dark starling with a medium-length tail. The only red-winged Starling in its range.
Glossy black plumage
Reddish-brown primaries
Dark brown eye
Blackish bill
Black legs
Females have a grey head with dark streaks on nape and lower throat. Juveniles resemble males but are less glossy.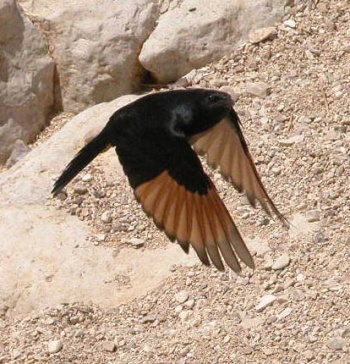 Distribution
Israel, Jordan, Egypt (Sinai region), western and southern Saudi Arabia, and Yemen.
Common to locally abundant.
Taxonomy
This is a monotypic species.
Has been considered to from a superspecies (or even to be conspecific) with Red-winged Starling.
Habitat
Rocky cliff faces. Now also in urban areas.
Behaviour
They usually gather in flocks and are quite noisy. Forms big roosts with several hundreds of birds outside breeding-season.
Diet
The diet includes fruit and invertebrates; they groom Nubian Ibex and domestic livestock for parasites.
Breeding
Breeding season March to June in Israel. A monogamous species, sometimes forming loose colonies. Their nests are mainly in crevices or rock surfaces and they occur from sea level to 3000m. Lays 2 - 4 eggs.
Movements
A resident species, sometimes partly nomadic.
References
Clements, JF. 2010. The Clements Checklist of Birds of the World. 6th ed., with updates to December 2010. Ithaca: Cornell Univ. Press. ISBN 978-0801445019. Spreadsheet available at http://www.birds.cornell.edu/clementschecklist/Clements%206.5.xls/view
Del Hoyo, J, A Elliott, and D Christie, eds. 2009. Handbook of the Birds of the World. Volume 14: Bush-shrikes to Old World Sparrows. Barcelona: Lynx Edicions. ISBN 978-8496553507
Recommended Citation
External Links
GSearch checked for 2020 platform.1