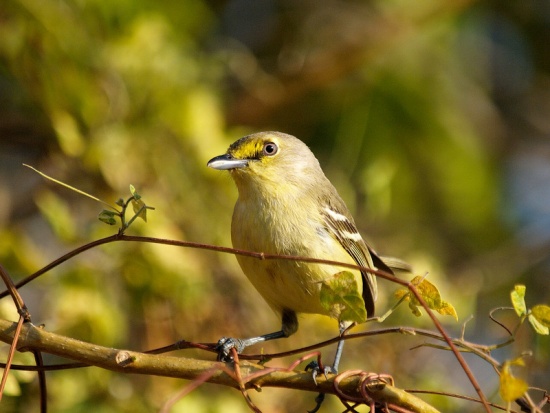 Vireo crassirostris
Includes: Providencia Vireo
Identification
14cm. Olive-green upperparts, brown or grey-brown iris, broken dull yellow spectacles, pale yellow underparts, white undertail, brown wings with two white bars, large, grey bill. Sexes similar.
Variation
Underside color varies geographically, with strongest yellow in Bahamas.
Distribution
The Caribbean: the Bahamas, Turks and Caicos, Ile Tortue near Hispaniola, some small islands off Cuba, and Cayman Islands.
A vagrant to Southeastern Florida and the Florida Keys.
Taxonomy
Five subspecies are recognized[1]:
V. c. crassirostris
V. c. stalagmium
V. c. cubensis
V. c. alleni
V. c. tortugae
Habitat
Dense undergrowth and thickets.
Behaviour
It builds a cup shaped nest, lined with grass, attached to a fork in a tree or bush branch. 2-3 dark-spotted white eggs are laid. Both the male and female incubate the eggs.
The diet is exclusively insects.
References
Clements, J. F., T. S. Schulenberg, M. J. Iliff, S. M. Billerman, T. A. Fredericks, B. L. Sullivan, and C. L. Wood. 2019. The eBird/Clements Checklist of Birds of the World: v2019. Downloaded from http://www.birds.cornell.edu/clementschecklist/download/
Raffaele et al. 1998. Birds of the West Indies. Christopher Helm, London. ISBN 0713649054
Recommended Citation
External Links