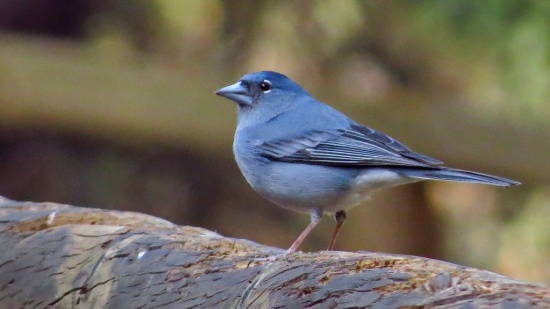 Alternative name: Tenerife Teydefinch
Fringilla teydea
Identification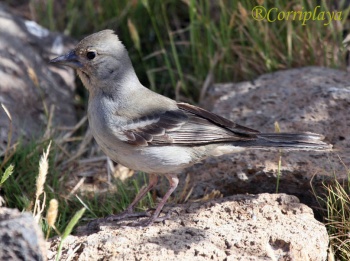 16–17 cm (6¼-6¾ in)

Pale grey bill
Greyish wing bars
Breeding male
Greyish-blue head and mantle
Light grey breast, throat and flanks
White undertail Coverts

Female
Brownish-grey upperparts
Greyish-white below
Similar Species
Adult male is larger than Gran Canaria Blue Chaffinch (longer wings and marginally larger bill), with less black on the forehead band, overall darker plumage and more bluish wing-bars. The two recently split species do not overlap in range.
Distribution
Found almost exclusively in the Pinus canariensis forests of Tenerife where the population is probably over 1000 pairs and is stable or even increasing due to reforestation. The best place to observe the Tenerife Blue Chaffinch is at the Las Lajas picnic site about 10 km from Vilaflor on Tenerife.
Taxonomy
Formerly lumped with Gran Canaria Blue Chaffinch under the name "Blue Chaffinch."
Subspecies
This is a monotypic species[1].
Habitat
It has colonised non-native pine forests on Tenerife and is even found in mixed pine and laurel forests. Outside the breeding season small flocks are wide-ranging with sightings recorded from upland scrub, chestnut forest and even orchards.
Behaviour
During the breeding season pairs establish and defend territories. Territories are generally smaller in this species than for the Gran Canaria Blue Chaffinch.
Diet
Feeding occurs mostly on the ground, often in the company of Common Chaffinches and African Blue Tits. The Tenerife Blue Chaffinch feeds mostly on pine seeds but also takes other seeds and forest fruits and even figs. Insects such as beetles and butterflies are also taken but make up only a small proportion of the diet.
Breeding
The breeding season begins late with the first clutch laid in late April, May or early June. The nest is placed on a side branch high up in pine trees, although occasionally other trees are used. The clutch, of which two per season have been reported, is of two greenish-blue eggs with brownish of purplish markings.
Vocalisation
While mostly silent, the call is a double chirp and the song a double trill sounding something like Tschin-tin-tiui Vi-vi-vi-vi-vi. Song is lower-pitched than that of Gran Canaria Blue Chaffinch, the notes being markedly louder and more emphatic in the second part of the song.
Movements
Resident. May fly some distance in search of water, especially in summer months.
History
The blue chaffinch has suffered hugely from unscrupulous collecting by early ornithologists. One, the Austrian Rudolph Von Thanner, is known to have shot 122 Tenerife Blue Chaffinch at the beginning of the 20th Century.
References
Clements, J. F., T. S. Schulenberg, M. J. Iliff, S. M. Billerman, T. A. Fredericks, B. L. Sullivan, and C. L. Wood. 2019. The eBird/Clements Checklist of Birds of the World: v2019. Downloaded from http://www.birds.cornell.edu/clementschecklist/download/
Clement, P., Sharpe, C.J. & Kirwan, G.M. (2020). Tenerife Blue Chaffinch (Fringilla teydea). In: del Hoyo, J., Elliott, A., Sargatal, J., Christie, D.A. & de Juana, E. (eds.). Handbook of the Birds of the World Alive. Lynx Edicions, Barcelona. (retrieved from https://www.hbw.com/node/61287 on 17 February 2020).
Gill, F & D Donsker (Eds). 2019. IOC World Bird List (v9.2). doi : 10.14344/IOC.ML.9.2. Available at http://www.worldbirdnames.org/
Grant, P.J., K. Mullarney, L. Svensson, D. Zetterstrom (1999) Collins Bird Guide: The Most Complete Field Guide to the Birds of Britain and Europe. Harpercollins Pub Ltd ISBN 0 00 219728 6
Sangster, G., Rodríguez-Godoy, F., Roselaar, C.S., Robb, M.S. & Luksenburg, J.A. (2016) Integrative taxonomy reveals Europe's rarest songbird species, the Gran Canaria blue chaffinch Fringilla polatzeki. J. Avian Biol. 47(2): 159–166.
Lifjeld, J.T., Anmarkrud, J.A., Calabuig, P., Cooper, J.E.J., Johannessen, L.E., Johnsen, A., Kearns, A.M., Lachlan, R.F., Laskemoen, T., Marthinsen, G., Stensrud, E. & Garcia-del-Rey, E. (2016) Species-level divergences in multiple functional traits between the two endemic subspecies of Blue Chaffinches Fringilla teydea in Canary Islands. BMC Zool. 1: 4. doi: 10.1186/s40850–016–0008–4.
Recommended Citation
External Links