This article is incomplete.
This article is missing one or more sections. You can help the BirdForum Opus by expanding it.
Spilornis rufipectus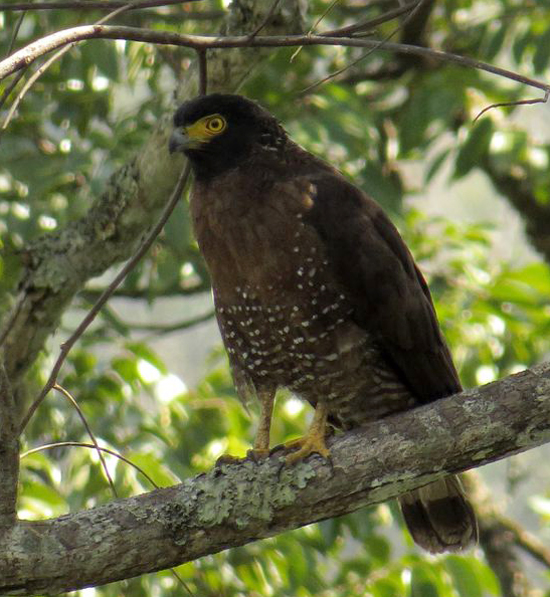 Identification
46-64 cm. Sexes alike.
head blackish
upperparts dark brown
chest rufous to dull brown. May or may not contrast with darker belly area.
lower belly with mixture of darker brown, rufous and white spotting transitioning to more regular barring in lower areas
wings dark from above. With dark brown, white and black speckling on underwing coverts, and boldly barred black and white flight feathers from below. Wing is rounded
tail is boldly barred black and white underneath, showing as black and grey bars from above
eye, facial skin, cere and legs bright yellow
Distribution
Endemic to Sulawesi and the Sula Islands. South East Asia: Indonesia: Greater Sundas.
Taxonomy
Treated as a race of Crested Serpent Eagle, Spilornis cheela, by some authors.
Subspecies[1]
Spilornis r. rufipectus - Sulawesi and adjacent islands
Spilornis r. sulaensis - Banggai and Sula islands (off eastern Sulawesi)
Habitat
Forest edge and grassy woodlands.
Behaviour
External Links