Alternative names: Sulawesi Tarictic Hornbill; Celebes Hornbill; Sulawesi Dwarf-Hornbill; Temminck's Hornbill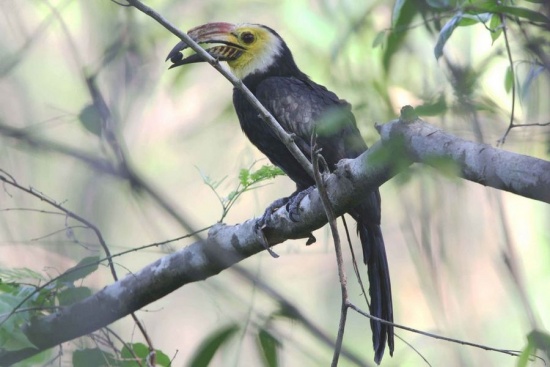 Rhabdotorrhinus exarhatus
Identification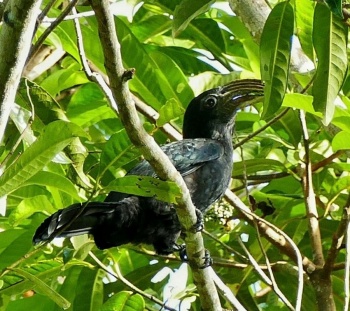 45 cm (17¾ in) A small, black Hornbill.
Overall black plumage with green gloss on back
Bill pale yellow, black base at lower mandible, sanfordi with pale creamy yellow ridges across lower mandible
Male face and throat white, stained yellow
Female smaller, all black plumage and blacker bill and casque
Juveniles with smaller bill, undeveloped casque
Distribution
Sulawesi endemic. South East Asia: Indonesia: Greater Sundas. Locally common, however loss of lowland forest has fragmented its range.
Taxonomy
Subspecies
There are two subspecies of the Sulawesi Hornbill[1]:
R. e. exarhatus in north Sulawesi
R. e. sanfordi in central, east and south Sulawesi, Buton and Muna Island
Has been treated conspecific with the other species of its former genus Penelopides.
Habitat
Tropical lowland, swamps and primary forests.
Mostly below 650m, sometimes up to 1100m.
Behaviour
Diet
The diet includes fruits, figs and insects.
Breeding
Breeding starts from March to April, breeds in pairs, sometimes co-operative in small groups. The female seals herself inside a tree hole for egg-laying. During this time, the male will provide food for the female and the young. Lays 2-3 eggs.
Movements
A sedentary and territorial species.
References
Del Hoyo, J, A Elliot, and J Sargatal, eds. 2001. Handbook of the Birds of the World. Volume 6: Mousebirds to Hornbills. Barcelona: Lynx Edicions. ISBN 978-8487334306
Clements, J. F., T. S. Schulenberg, M. J. Iliff, D. Roberson, T. A. Fredericks, B. L. Sullivan, and C. L. Wood. 2018. The eBird/Clements checklist of birds of the world: v2018. Downloaded from http://www.birds.cornell.edu/clementschecklist/download/
Recommended Citation
External Links