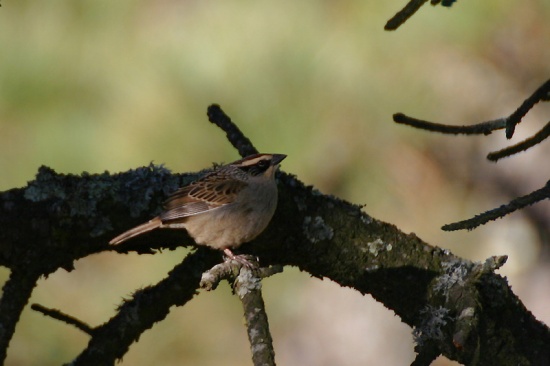 Oriturus superciliosus
Identification
16.5-18 cm. A large sparrow with a flat head and a rounded tail.
Rusty crown thinly streaked with black and with a pale buffy median crownstripe
Creamy white long broad supercilium
Black side of face
Grey nape streaked with black
Buffish-brown upperparts heavily streaked black, heaviest on mantle
Brown tail with buffy brown edges to feathers
Blackish-brown upperwings, two indistinct whitish wingbars
White throat, greyish-white underparts with paler belly, buffish wash on flanks and undertail-coverts
palliatus is paler and browner above, more greyish below and whiter on belly
Sexes similar, juveniles also similar but greyer and with thin black streaks on lower throat, breast, belly and flanks.
Distribution
Highlands of estern and southern-central Mexico.
Locally common to fairly common.
Taxonomy
Two subspecies recognized:
O. s. palliatus in western Mexico (Sierra Madre Occidental from Sonora to Nayarit)
O. s. superciliosus in the southern Central Plateau of Mexico
Habitat
Found in grassland and openings in or near humid pine-oak forest and in wet meadows.
Occurs at 1500-3500 m.
Behaviour
Seen eating seeds and insects, also recorded feeding green plant material to fledged young.
Forages near the ground or low in vegetation.
Breeding
Breeding season May to September. A monogamous species, probably loosely colonial. The nest is a cup made of dry grass, finer vegetation and sometimes hair. It's placed close to the ground, often in a thick bush. Lays 3 to 4 eggs.
Movements
This is a sedentary species.
References
Clements, J. F., T. S. Schulenberg, M. J. Iliff, B.L. Sullivan, C. L. Wood, and D. Roberson. 2013. The eBird/Clements checklist of birds of the world: Version 6.8., with updates to August 2013. Downloaded from http://www.birds.cornell.edu/clementschecklist/download/
Handbook of the Birds of the World Alive (retrieved July 2014)
Recommended Citation
External Links