This article is incomplete.
This article is missing one or more sections. You can help the BirdForum Opus by expanding it.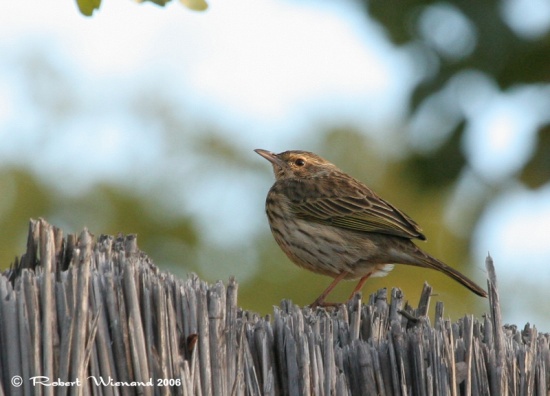 Anthus lineiventris
Identification
A fairly plump, heavily built Pipit with boldly striped underparts extending over almost the entire belly. At close range has diagnostic yellow-edged wing feathers. Streaking that continues all the way from the throat down onto the flanks and less markedly, the belly, ending at the vent. The crown, hind-neck and mantle are greenish-grey, while the wings have distinctive lemon-yellow edges, giving the wing a greenish appearance when seen from a distance, pink legs.
Distribution
Taxonomy
Subspecies
Clements recognises the following subspecies [1]:
A. l. stygium: West Angola to western Tanzania, south east Kenya and coastal east South Africa
A. l. lineiventris: South east Botswana to northeastern South Africa and westerm Swaziland
Habitat
Well-wooded rocky habitats.
Behaviour
They forage for insects along sparse vegetation and amongst the rubble found on the slopes they favour.
External Links