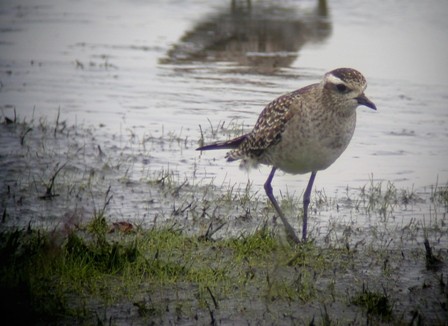 Overview
Wakulla County, Florida. The refuge road leads you to the visitor center, which is about a quarter mile from the kiosk. Its worth stopping to check the sightings log and there is a short trail which can be worth checking for birds and other wildlife.
Birds
Notable Species
In winter there will be many Yellow-rumped Warbler, Blue-headed Vireo, Ruby-crowned Kinglet, American Robin and maybe a few Brown-headed Nuthatch along with several woodpecker species. Keep an eye out for Golden-crowned Kinglet.
In Spring and Fall the area is good for migrants whilst in summer breeding birds include Yellow-throated Vireo and you maybe lucky enough to see a Swallow-tailed Kite gliding over.
From the visitor center proceed southwards along the refuge mainroad. The first stopping point is the two bridges area which can be good all year round but especially so during migration. This is one of the best places to see Prothonotary Warbler and both species of waterthrush but keep an eye out for other warblers and migrant songbirds.
In winter there will be many Gray Catbird and Rusty Blackbird is possible.
Carry on south and you will come to a right hand bend, just beyond that is a small pull in on the left with a trail leading off to the east. To the right of the trail is a helipad and it is in this area where one can find the elusive Henslow's Sparrow, usually present from late fall to early spring. With patience good views can be had. Other sparrows such as Grasshopper Sparrow and Savannah Sparrow are also present and there are usually a few Eastern Meadowlark and Wilson's Snipe. The latter depending on how flooded the field is. In the winter of 2004/2005 there were many Sedge Wren in this area for a while.
If you are feeling energetic you may wish to carry on along the trail which takes you out to the seldom explored areas of the refuge. This walk is very worthwhile especially in late winter when the impoundments hold a variety of wildfowl species but the main attraction is the chance of seeing multiple wintering Vermilion Flycatcher. In the winter of 2004/2005 there were no less than 6 present for most of the winter months.
Once you have returned to your vehicle proceed south checking the impoundments (especially Stoney Bayou and the Mounds Pools)on both sides of the road. In spring pay particular notice to the Glossy Ibis as there are usually one or two White-faced Ibis present. If the water levels are low the impoundments also attract shorebirds during migration and great views can be had of Pectoral Sandpiper and Stilt Sandpiper. Black-necked Stilt are also present and attempt to breed when the conditions are right. Stoney Bayou is now tidal after Hurricane Dennis damaged one of the levees, fall 2005 was fantastic for migrating shorebirds as a result and it will be interesting to see if the refuge managment team leave the break in the levee unrepaired. Hopefully they will and we will continue to get large numbers of migrant shorebirds passing through the refuge next spring. Early morning and late evening is the best time to check for shorebirds here. All the typical species can be seen during migration on a good day.
Heading further south you will eventually arrive at Headquarter's Pond which is on the left just as you approach the car park (which has a Restrooms). From the car park a short trail leads to a wooden platform allowing visitors to scan for birds and wildlife around the pond area. This is a great birding spot at anytime of year. In winter it is possible to see Purple Gallinule although they are easier to see when it warms up. A good variety of dabbling ducks can be found on the pond including Blue-winged Teal and Green-winged Teal, Northern Shoveler and American Wigeon. A male Cinnamon Teal visited the pond sporadically last winter. Other birds of note include Black-crowned Night Heron, Sora, Bald Eagle and many egrets and ibis. At dusk (especially in January) listen out for Great Horned Owl. In the spring and summer Least Bittern arrive and are fairly easy to see with patience, Eastern Kingbird seem to be everywhere and swallows feed over the pond.
In the pine trees around the pond one can see Brown-headed Nuthatch, Pine Warbler and Yellow-throated Warbler as well as the noisy but skulky Eastern Towhee.
Check the oaks around the carpark for migrants and rarities. A Red-breasted Nuthatch wintered around the restroom area recently.
Tower Pool is best visited prior to the incoming tide, if the pool is shallow and their is plenty of mud exposed the number of shorebird species present can be great. Spring is the best time (however see Stoney Bayou above) to see large numbers of shorebirds with the bulk being made up from Dunlin, Short-billed Dowitcher, Least Sandpiper, Western Sandpiper, Semipalmated Sandpiper, Black-bellied Plover, Willet, Semipalmated Plover, Lesser Yellowlegs and Greater Yellowlegs.
Species recorded in smaller numbers include Pectoral Sandpiper, Stilt Sandpiper, Black-necked Stilt, American Golden Plover, Solitary Sandpiper, Spotted Sandpiper and Long-billed Dowitcher. Scarce species such as Buff-breasted Sandpiper, Baird's Sandpiper, American Avocet and Wilson's Phalarope are occassionally reported and can sometimes linger for several days.
Other birds of note at this time of year include Wilson's Plover, Least Tern, Caspian Tern, Gull-billed Tern and Whimbrel. These species are usually found on the tidal flats opposite the pool.
On the side of the track is a rank area of thistle which in spring can attract newly arrived Ruby-throated Hummingbird. I have seen up to a dozen feeding there.
Once back at the carpark continue south down to the lighthouse area.
In winter check offshore for hundreds/thousands of wildfowl mainly Bufflehead, Lesser Scaup, Greater Scaup and Red-breasted Merganser. scoter species are occassionally reported. There are usually good numbers of Common Loon and Horned Grebe present.
The lighthouse pool is good for wintering American Wigeon and Redhead but you can occassionally see Canvasback here too.
Check the shoreline vegetation especially to the east of the lighthouse for both Nelson's Sparrow and Saltmarsh Sparrow as well as Clapper Rail and Swamp Sparrow.
In spring if there has been a fallout the large Oaks by the lighthouse are often worth checking for songbirds. I once had 8 Orchard Oriole, a male Scarlet Tanager and several species of warbler in one tree! Other migrants worth looking for are swallows and hawks the latter in the fall.
Rarities
Many rarities have been recorded over the years here is a list of some. Glaucous Gull, Scissor-tailed Flycatcher, Western Kingbird, Yellow-headed Blackbird, Bronzed Cowbird, Cinnamon Teal, Cave Swallow, White-faced Ibis, Magnificent Frigatebird, Western Grebe, Yellow-nosed Albatross and Lesser Sand Plover.
Check-list
Birds you can see here include:
To do
Other Wildlife
To do
Site Information
St Marks NWR is a fantastic refuge and one of THE BEST birding spots in the entire state especially between January & May.
History and Use
To do
Areas of Interest
From the car park walk Headquarter's trail which takes you on an anti-clockwise route around an oak hammock and a freshwater pool known as Tower Pool.
The hammock can be exceptional during spring migration and if the weather conditions are right one can see many songbird migrants.
Access and Facilities
St Marks NWR is located approximately 25 miles south of state capital Tallahassee. From Tallahassee take Woodville Highway (363) south until you come to a blinking light with two gas stations on either side of the road. Take a left and follow road to end. Take a left on US-98 crossing over the river. Take the next right and follow to refuge entrance where there is a pay kiosk ($5). Duck stamp holders display your card in the window and proceed onto refuge.
LATEST NEWS (UPDATED 4th May 2006)
It has been a quiet spring at the refuge with very few songbird migrants recorded. There was one good fallout in late April when 19 species of warbler were noted. There are still 2 American Avocets present and the number of shorebirds on stoney bayou is at times quite staggering. Thousands of Short-billed Dowitchers and Black-bellied Plovers in particular. 5 Fulvous Whistling-ducks were present for a while in April but as far as rarities go it has been quiet.
Contact Details
If you plan visiting the refuge and would like any help or a friendly guide for the day please contact me. [email protected]
St. Marks National Wildlife Refuge 1200 Lighthouse Road St. Marks, FL 32355
Tel: 850-925-6121.
External Links
St Marks National Wildlife Refuge

GSearch checked for 2020 platform.1

Content and images originally posted by Limeybirder