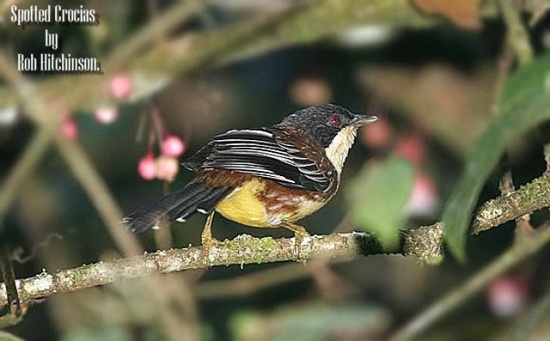 Laniellus albonotatus
Crocias albonotatus
Identification
Very similar to the related Grey-crowned Crocias, with 20cm slightly smaller1:
Chestnut-brown upperparts with white streaks
Blackish-grey mask which shades to grey on crown
Whitish below, whitish streaks on chestnut-brown flanks
Long, grey tail
Blackish upperwing with white fringes
Distribution
Endemic to a small area in W Java (Indonesia).
Regularly found in Gunung Gede-Pangrango National Park where moderately common. Rare in Gunung Halimun National Park.1
Taxonomy
This is a monotypic species.[2]
Sometimes treated under Crocias guttatus, but current name older. 1
Habitat
Broadleaf evergreen forest, usually in the canopy and at forest edge. Found between 900-2400m.1
Behaviour
Feeds on insects and sometimes fruit.
Usually seen in small flocks, but also in bird waves. Almost always in the canopy.
Breeding season in March and December. One reported clutch had 2 eggs. No other data available.
Resident species.1
References
del Hoyo, J., Elliott, A. and Christie, D.A. eds. 2007. Handbook of the Birds of the World. Vol. 12. Picathartes to Tits and Chickadees. Barcelona: Lynx Edicions. ISBN 84-96553-42-6
Clements, J. F., T. S. Schulenberg, M. J. Iliff, S. M. Billerman, T. A. Fredericks, J. A. Gerbracht, D. Lepage, B. L. Sullivan, and C. L. Wood. 2021. The eBird/Clements checklist of Birds of the World: v2021. Downloaded from https://www.birds.cornell.edu/clementschecklist/download/
External Links
GSearch checked for 2020 platform.