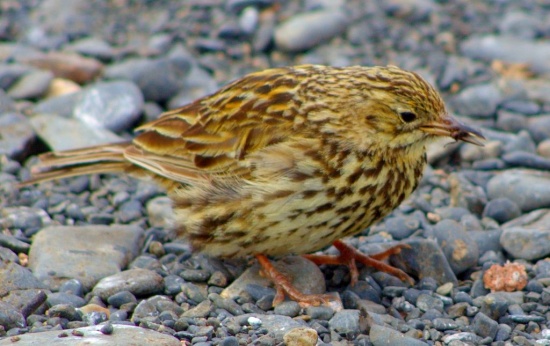 Anthus antarcticus
Identification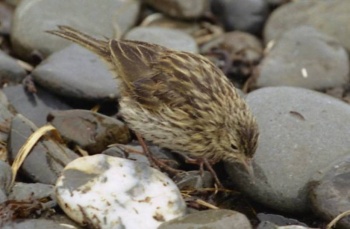 L. 16.5 cm. (6.5")

Adult
Evenly streaked with bold black and rich buff upperparts. No obvious white mantle stripes. Underparts almost entirely streaked dark. Prominent malar stripe. Tail dusky with white outer rectrices. Lacks pale supercilium but has whitish wing-bar on tips of median coverts. Bill relatively broad-based, grayish-brown. Legs pale flesh-brown with long rear claw. Sexes alike.
Juvenile
Like fresh adult but averages buffier, especially on underparts.
Similar species
None within range. Correndera Pipit (A. correndera) of South America is similar but South Georgia Pipit decidedly larger and more boldly streaked on head and belly.
Distribution
Endemic to grasslands of South Georgia Island.
Taxonomy
This is a monotypic species[1].
Habitat
Hillside, tussock grass.
Behaviour
Walks on the ground. The only passerine breeding on South Georgia.
Breeding
It builds a large bulky nest from dried grass lined with feathers, covered by canopy of brown and green tussac grass. The clutch consists of 3-5 eggs laid in January or February.
Diet
The diet includes insects and spiders, and beach debris. Prefers springtails in freshwater pools in spring.
Vocalisation
Conspicuous display flight in breeding season with repeated twittering and high-pitched sequences lasting several minutes. Short soft notes given when flushed.
References
Clements, J. F., T. S. Schulenberg, M. J. Iliff, D. Roberson, T. A. Fredericks, B. L. Sullivan, and C. L. Wood. 2017. The eBird/Clements checklist of birds of the world: v2017, with updates to August 2017. Downloaded from http://www.birds.cornell.edu/clementschecklist/download/
BirdLife International. 2016. Anthus antarcticus. The IUCN Red List of Threatened Species 2016: e.T22718588A94587376. http://dx.doi.org/10.2305/IUCN.UK.2016-3.RLTS.T22718588A94587376.en. Downloaded on 12 June 2018.
Tyler, S. (2018). South Georgia Pipit (Anthus antarcticus). In: del Hoyo, J., Elliott, A., Sargatal, J., Christie, D.A. & de Juana, E. (eds.). Handbook of the Birds of the World Alive. Lynx Edicions, Barcelona. (retrieved from https://www.hbw.com/node/57794 on 12 June 2018).
Shirihai, H. 2008. Complete Guide to Antarctic Wildlife: Birds and Marine Mammals of the Antarctic Continent and the Southern Ocean. Princeton & Oxford: Princeton Univ. Press. ISBN 978-0691136660
Wikipedia
ARKive
Recommended Citation
External Links