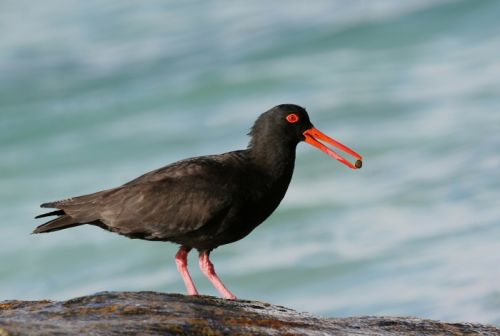 Includes: Spectacled Oystercatcher
Haematopus fuliginosus
Identification
46–49 cm (18-19¼ in)
overall plumage sooty-black
eye-ring red or yellow
bill red
legs pink
Young birds are duller and browner.
Distribution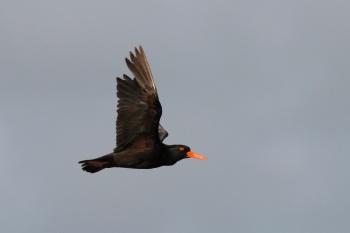 Coasts and islands of Australia and Tasmania.
Taxonomy
Reference [4] notes that opthalmicus may be elevated to species status as "Spectacled Oystercatcher", H. opthalmicus (ssp. opthalmicus).
Subspecies
Clements recognises the following subspecies [1]:
H. f. opthalmicus: "Spectacled Oystercatcher". Coasts and islands of northern Australia (Shark Bay to Lady Elliot Island) [Smaller than fuliginosus with a distinctly yellow eye ring.]
H. f. fuliginosus: Coasts and islands of southern Australia (north to Brisbane); Tasmania. [Larger than H. f. opthalmicus with a red eye ring.]
Habitat
Rocky coastlines and sometimes estuaries.
Behaviour
Breeding
Colonial breeders, their nest is a ground scrape lined with broken shells, generally on a rocky shore. The clutch usually consists of 2 eggs, which are incubated by both adults and they both also care for the youngsters.
Diet
Their diet consists mostly of molluscs, crabs and crustaceans, marine worms, starfish, sea urchins, and small fish. They are quite deft with their bills at opening the shells of bi-valves. They also use it to stab at fish.
References
Clements, J. F., T. S. Schulenberg, M. J. Iliff, D. Roberson, T. A. Fredericks, B. L. Sullivan, and C. L. Wood. 2016. The eBird/Clements checklist of birds of the world: v2016, with updates to August 2016. Downloaded from http://www.birds.cornell.edu/clementschecklist/download/
Handbook of the Birds of the World Alive (retrieved February 2017)
Birds in Backyards
Eaton, JA, B van Balen, NW Brickle, FE Rheindt 2021. Birds of the Indonesian Archipelago (Greater Sundas and Wallacea), Second Edition. Lynx Editions. ISBN978-84-16728-44-2
Recommended Citation
External Links
GSearch checked for 2020 platform.1