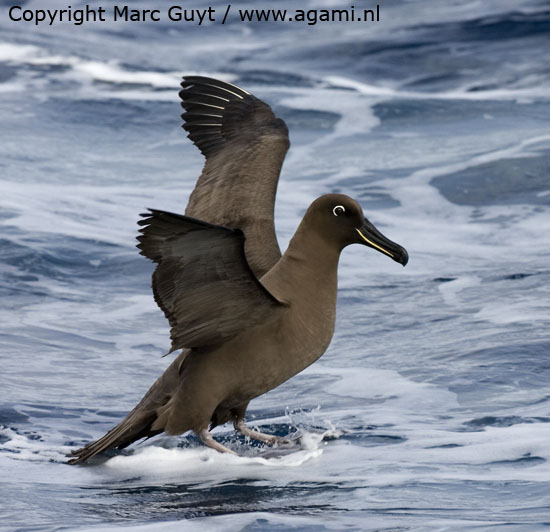 Alternative name: Sooty Mollymawk
Phoebetria fusca
Identification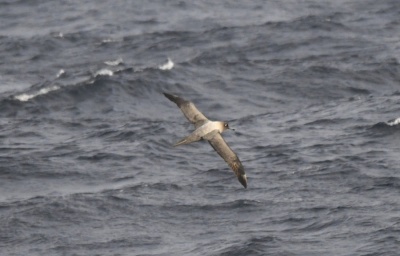 Length: 84-89cm (33-35 in). Wingspan: 195-205cm.
One of the two Phoebetria species which are distinguished from Diomedea albatrosses by wholly sooty-brown plumage, very slender wings and pointed tail, and more graceful, bouyant wheeling flight but very difficult to tell apart.
Adult: sooty-brown slightly darker on head, particularly on sides and paler across nape, tail and primaries blackish with pale shaft-streaks. Iris brown, incomplete white eye-ring, bill black with yellow or orange stripe on lower mandible and legs greyish or mauve.
Immature: juvenile as adult but with paler nape sometimes forming half-collar and indistinct paler fringes to mantle. Bill blackish with grey, bluish or purple stripe on lower mandible and lacks white shaft-streaks on tail and primaries.

Similar Species
Light-mantled Albatross - has paler upperparts extending from hindneck to rump contrasting with wings and at close range by blue stripe on lower mandible.
Immatures can be very difficult to separate as colour of bill-stripe can overlap but pale plumage above on Sooty does not extend to lower back and rump as in Light-mantled Albatross.
Distribution
South Atlantic and southern Indian Oceans. Breeds on Tristan da Cunha and Gough Island in the Atlantic and in the Indian Ocean on Amsterdam, St Paul, Marion, Prince Edward, Crozet and Kerguelen Islands. Dispersing birds occur throughout the southern Atlantic and Indian Oceans between about 300S and 600S.
Uncommon off Australia and South Africa and not recorded in New Zealand waters
Taxonomy
This is a monotypic species[1].
Habitat
Colonial breeder on grassy clifftops on islands where present September to May, otherwise at sea. Often follows ships for long periods.
Behaviour
Breeding
Breeds in southern summer. Nest is a large bowl made of mud and vegetable matter on steep hillside or in gully. Single egg, white marked with grey-brown speckles (101 x 66mm). Incubated by both parents for about 55-60 days and young fed by both parents. Fledges after 5 months.
Diet
Squid and fish, sometimes refuse from ships.
Vocalisation
Wild double-note to overhead birds from nest.
References
Clements, J. F., T. S. Schulenberg, M. J. Iliff, D. Roberson, T. A. Fredericks, B. L. Sullivan, and C. L. Wood. 2018. The eBird/Clements checklist of birds of the world: v2018. Downloaded from http://www.birds.cornell.edu/clementschecklist/download/
Recommended Citation
External Links