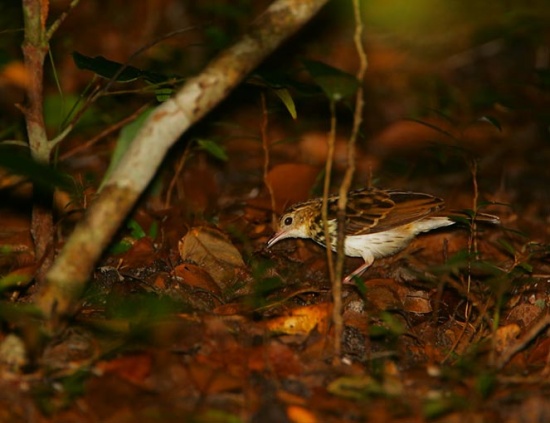 Anthus sokokensis
Identification
A small forest pipit which shows heavy black-streaking of both upper & underparts. The rump & upper tail coverts are rufous-tinged whilst the wings show much pale feather edging & two prominent wing-bars.
Distribution
Confined to the coastal forests of central-southern Kenya & with an outlying population in central coastal Tanzania. The main population resides in the Arabuko-Sokoke forest with a smaller population in the Shimba hills. In 2000 the estimated world population was between 10,000 & 20,000 individuals and declining. The major threat to this endangered species is habitat loss through deforestation.
Taxonomy
Monotypic.
Habitat
A small forest pipit which favours dense stands of evergreen forest dominated by Afzelia trees. Sokoke Pipit can also be found in adjacent Brachystegia woodland where it is much less common. Both these types of woodland are under considerable pressure from logging & forest clearance.
Behaviour
The birds we found were either single birds or pairs -the latter maintaining contact with high-pitched calls. Our birds walked briskly across the leaf-litter of the forest floor tossing leaves aside like small thrushes. On a few occasions we saw these pipits eat small snails which they deftly removed from their shells.
External Links