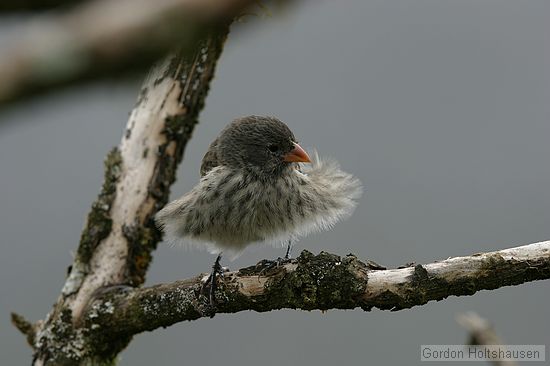 Geospiza fuliginosa
Identification
The smallest ground finch. Like other species in this group, Black plumage is supposed to signal a male in full breeding (with white tips to undertail coverts), but males can also be much more similar to females, with brown and gray plumage and striped underside. Bill color can go from black to pink. Bill shape is usually distinctive, with a small bill that is more pointed than in other ground finches (significantly longer than it is tall), with the culmen slightly curved. The size of the bill varies between islands depending on what food is available and which other species are competing.
Distribution
Galapagos Islands (Ecuador) - on main islands, except Culpepper, Genovesa and Wenman.
Taxonomy
Habitat
Mostly breeding in coastal and arid zones and occasionally higher, moving higher into woodland when not breeding; to 1700m.
Behaviour
Feeds on smaller seeds and the like, but also on ectoparasites found on reptiles including iguanas and tortoises.
References
Clements, J. F., T. S. Schulenberg, M. J. Iliff, D. Roberson, T. A. Fredericks, B. L. Sullivan, and C. L. Wood. 2015. The eBird/Clements checklist of birds of the world: v2015, with updates to August 2015. Downloaded from http://www.birds.cornell.edu/clementschecklist/download/
Recommended Citation
External Links