Alternative names: White-bellied Flycatcher; White-vented Flycatcher; Celebes Flycatcher; Celebes Red-throated Flycatcher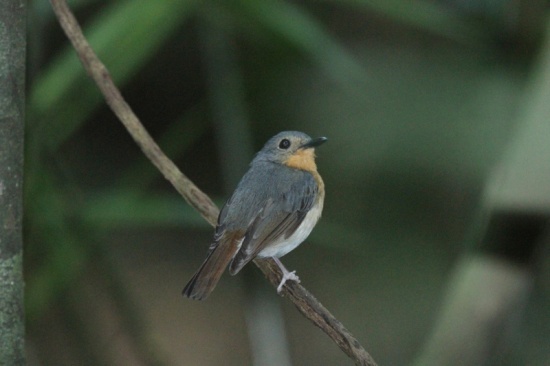 Ficedula rufigula
Identification
11-12 cm, a small flycatcher.
Male
Dark blue-grey forehead, crown and upperparts, including tail and upperwing-coverts
Blackish flight-feathers and tertials
Black lores, cheek and ear-coverts
Rufous-orange chin and throat, fading over breast and flanks to white rest of underparts
Bright turquoise-blue eyelid
Female
Dark grey-blue forehead to nape
Pale buffish upper lores and eyering
Dark brown mantle, back, scapulars, upperwings-coverts and edges of flight-feathers
Rufous-brown rump to base of tail, rest of tail blackish-brown
Underparts like male but duller and paler
Juveniles undescribed.
Distribution
Endemic to Sulawesi (Indonesia).
A restricted-range species, locally common but very secretive and rarely seen.
Taxonomy
This is a monotypic species.
Sometimes considered to form a superspecies with Rufous-chested Flycatcher and Cinnamon-chested Flycatcher.
Habitat
Moist lowland forests to lower montane forest and secondary and swamp-forest.
Occurs up to 600 m, locally higher.
Behaviour
Diet
Diet largely unknown, but includes small invertebrates.
Forages in dense undergrowth and on the ground.
Mostly seen in pairs, sometimes singly. A skulking species, rarely seen.
Breeding
Recently fledged juveniles recorded in September. No other information.
Movements
A resident species.
References
Clements, J. F., T. S. Schulenberg, M. J. Iliff, D. Roberson, T. A. Fredericks, B. L. Sullivan, and C. L. Wood. 2014. The eBird/Clements checklist of birds of the world: Version 6.9., with updates to August 2014. Downloaded from http://www.birds.cornell.edu/clementschecklist/download/
Gill, F and D Donsker (Eds). 2014. IOC World Bird Names (version 4.4). Available at http://www.worldbirdnames.org/.
Handbook of the Birds of the World Alive (retrieved November 2014)
Recommended Citation
External Links