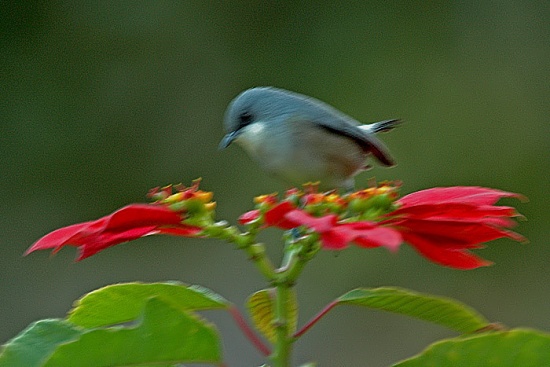 Alternative names: Grey White-eye; Mascarene Grey White-eye
Zosterops borbonicus
Identification
9.5 cm. White rump, the rest of the body is blue grey. The legs are nearly blackish. There is also a conspicious ring of white feathers around the chestnut coloured eyes.
Distribution
Taxonomy
This is a monotypic species[1].
Formerly considered conspecific with Mauritius Grey White-eye under the name Mascarene White-eye.
Habitat
Woodlands, forests, and gardens.
Behaviour
Its diet includes insects, fruits and nectar.
2-4 pale blue eggs are laid in a cup-shaped nest which is padded with plant material.
References
Clements, J. F., T. S. Schulenberg, M. J. Iliff, D. Roberson, T. A. Fredericks, B. L. Sullivan, and C. L. Wood. 2014. The eBird/Clements checklist of birds of the world: Version 6.9., with updates to August 2014. Downloaded from http://www.birds.cornell.edu/clementschecklist/download/
Gill, F and D Donsker (Eds). 2014. IOC World Bird Names (version 4.3). Available at http://www.worldbirdnames.org/.
Recommended Citation
External Links