This article is incomplete.
This article is missing one or more sections. You can help the BirdForum Opus by expanding it.
Ptilinopus fischeri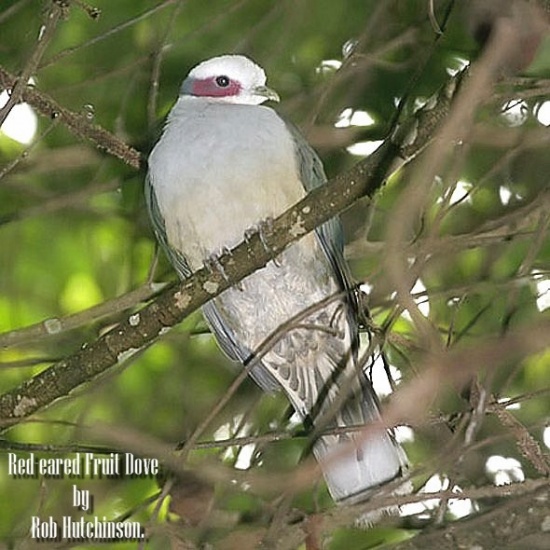 Identification
(35-37 cm). Marked subspecies (species?) variation:
head including rear neck greyish white
throat (sometimes contrastingly) white
ear patch from just in front of eye vinous red with dark band connecting to the back of the neck
underparts largely grey
belly more or less golden (fischeri, centralis) or grey (meridionalis)
upper parts bright green (fischeri), bright green with a grey mantle (centralis) or all grey (meridionalis)
upper tail bright green
under tail grey
under tail coverts grey with white edges
eye and feet dark
bill generally light yellowish grey
Sexes alike
Distribution
Sulawesi endemic. South East Asia: Indonesia: Greater Sundas.
Taxonomy
Some authors split P. f. meridionalis from the other subspecies as Lompobattang fruit-dove.
Subspecies[1]
Ptilinopus fischeri fischeri Montane forests of n Sulawesi
Ptilinopus fischeri centralis Montane forests of central and se Sulawesi
Ptilinopus fischeri meridionalis SW Sulawesi (Lompobattang Massif)
Habitat
Moist montanes.
Behaviour
References
Clements, JF. 2008. The Clements Checklist of Birds of the World. 6th ed., with updates to December 2008. Ithaca: Cornell Univ. Press. ISBN 978-0801445019.
External Links
GSearch checked for 2020 platform.1