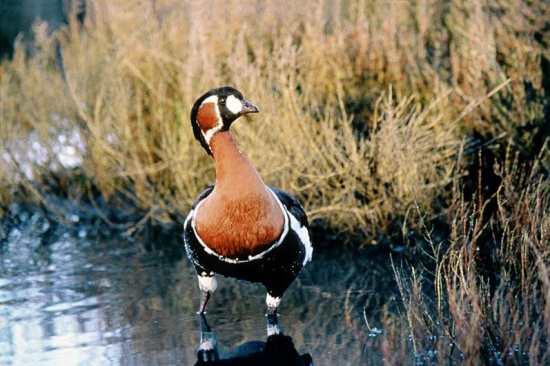 Branta ruficollis
Identification
L 53–56 cm (20¾-22 in); WS 110-125cm
Red cheeks, throat and breast
Rest of plumage black and white
Very small bill
Distribution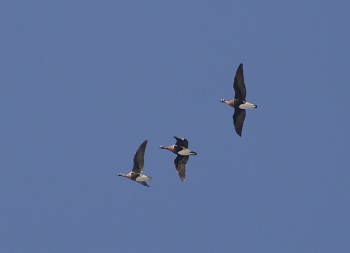 Breeds on the Taymyr Peninsula and migrates to the south-west to winter on the northern and western shores of the Black Sea. The main wintering grounds were formerly around the Aral and Caspian Seas and in Iraq but numbers in these areas are now very low. Most now winter in the Dobrogea region of Romania with smaller numbers in north Bulgaria and Hungary and sometimes in north-east Greece and Turkey.
Recorded fairly frequently in the Netherlands, usually with migrating Barnacle Geese and also seen less regularly in Sweden, Finland and Britain. British records (c. 70) mainly in the east and south from October to March.
Recorded throughout Europe as a vagrant west to Spain but this species is widely kept in captivity and some records undoubtedly refer to escapes. Arrive on wintering grounds in November and some begin to leave as early as March.
Despite a general decline in population during the 20th century, numbers of birds seen as vagrants in Western Europe appear to be increasing. In 2001 birds of uncertain origin were recorded in Malta and Israel.
Status
They are now "vulnerable".
Taxonomy
This is a monotypic species[1].
Habitat
Breeds on the tundra in small colonies on low cliffs or rocky outcrops, usually near water and close to nest of large raptor or gull.
On passage and in winter on open steppe, pastures and crop fields usually near large shallow waters but often in fairly arid areas.
Behaviour
Vagrants are usually found with White-fronted and Brent Geese.
Breeding
Up to 9 creamy-white eggs are laid and which are incubated for 25 days. They nest in small colonies, usually near to the site of Peregrine Falcon nests for protection.
Diet
Their diet includes grasses, leaves and seeds.
Vocalisation
A shrill ki-kwi or kik-wik
References
Clements, J. F., T. S. Schulenberg, M. J. Iliff, D. Roberson, T. A. Fredericks, B. L. Sullivan, and C. L. Wood. 2017. The eBird/Clements checklist of birds of the world: v2017, with updates to August 2017. Downloaded from http://www.birds.cornell.edu/clementschecklist/download/
Birdwatchers Pocket Guide ISBN 1-85732-804-3
Collins Field Guide 5th Edition
Collins Bird Guide ISBN 0 00 219728 6
Handbook of the Birds of the World Alive (retrieved Sept 2017)
Recommended Citation
External Links
GSearch checked for 2020 platform.1