This article is incomplete.
This article is missing one or more sections. You can help the BirdForum Opus by expanding it.
Loriculus exilis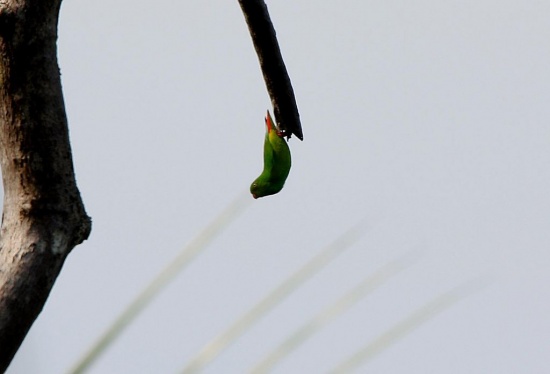 Identification
11 cm. Small parrot similar to others in the region. Sexes differ slightly.
Bill reddish or orangy
Cere orange
Throat with a restricted dark red patch. Perhaps slightly more extensive in males
Iris pale (male) or dark (female)
Body including underparts, wings largely green.
Lower belly to vent area may be more yellowish
Rump and upper tail coverts bright red (tail tip appearing green)
Feet bright orange
Similar species
On Sulawesi, Sulawesi Hanging Parrot (which see). Other hanging parrots are very similar but allopatric (Loriculus).
Distribution
Sulawesi endemic. South East Asia: Indonesia: Greater Sundas.
Taxonomy
Monotypic.
Habitat
Subtropical or tropical moist lowland forests and subtropical or tropical mangrove forests. It is threatened by habitat loss.
Behaviour
External Links