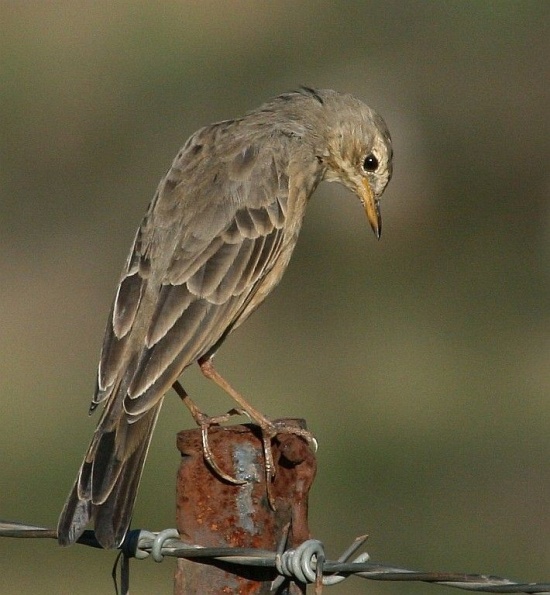 Anthus leucophrys
Identification
Length 17 cm, mass 23-30 g. Distinguishing features of this Pipit are a fairly dark brown, unstreaked back, buff (rather than white) outer tail feathers, and a yellowish base to the lower bill. The call is a loud, clear 'chrrrup-chereeoo'. The tail is seldom raised above the horizontal when pumped or wagged. It is very similar to the Buffy Pipit, but the Plainbacked Pipit has darker upperparts and more distinct breast markings. The call and tail-wag are also useful in identification.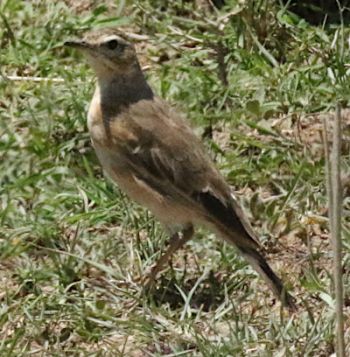 Distribution
Sub-Saharan Africa. Many populations are resident and sedentary, but some move from high altitudes to lower altitudes in winter.
Taxonomy
Subspecies
Subspecies differ mainly in plumage colour and there are small differences in wing length.
Clements recognises the following subspecies [4]:
A. l. ansorgei: South Mauritania to Senegambia and Guinea-Bissau
A. l. gouldii: Sierra Leone to Liberia and Ivory Coast
A. l. zenkeri: southern Mali and Guinea to southwestern Sudan and South Sudan south to northern Democratic Republic of the Congo, Uganda, western Kenya, Rwanda, Burundi, and northwestern Tanzania
A. l. omoensis: southeastern Sudan, eastern South Sudan, Eritrea, and northern and western Ethiopia
A. l. saphiroi: South east Ethiopia and nw Somalia
A. l. goodsoni: Central and south west Kenya to extreme n Tanzania
A. l. bohndorffi: Angola to southern Democratic Republic of the Congo, south east Gabon, Zambia, northern Malawi and Tanzania
A. l. tephridorsus: Southern Angola to south west Zambia, north east Namibia and north west Botswana
A. l. leucophrys: Mozambique to Swaziland, Lesotho and South Africa
Habitat
It is found either singly, in pairs or in loose flocks in areas with short grass or shrubs interspersed with bare ground, particularly areas which have been overgrazed or burnt. This includes short grasslands, short shrublands, the margins of wetlands and wooded areas, and fallow fields.
Behaviour
It occasionally perches on rocks and low mounds. When walking it adopts an upright stance and has a somewhat deliberate tail pumping action when standing still. Its diet consists mainly of insects and their larvae but it will also eat other invertebrates and seeds.
References
Hockey PAR, Dean WRJ & Ryan PG (eds) 2005. Robert's Birds of Southern Africa, 7th edition. Cape Town: John Voelcker Bird Book Fund. ISBN 0620340533
Lepage D. 2007. Avibase. Search for Anthus leucophrys downloaded 18 September 2007.
Sinclair I, Hockey P & Tarboton W. 1997. SASOL Birds of Southern Africa. 2nd Edition. Struik Publishers. ISBN 1868721035
Clements, J. F., T. S. Schulenberg, M. J. Iliff, T. A. Fredericks, J. A. Gerbracht, D. Lepage, S. M. Billerman, B. L. Sullivan, and C. L. Wood. 2022. The eBird/Clements checklist of Birds of the World: v2022. Downloaded from https://www.birds.cornell.edu/clementschecklist/download/
Recommended Citation
External Links
GSearch checked for 2020 platform.